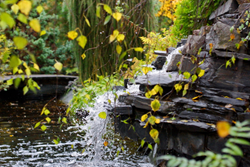 The simple pleasure of a tumbling waterfall compares with little else.
Marysville, WA (PRWEB) September 19, 2014
"Water features, especially waterfalls and fountains, not only provide beauty for the eyes, but create a charming, musical splashing that promotes relaxation and peacefulness," says B&D Rockeries in their newest article, designed to help property owners assess what type of water feature will best suit their lawn area.
"When considering installing a water feature, the first thing you must consider is the area in which a water feature could be placed," the article advises, suggesting that property owners rely on the expertise of an experienced landscaper to provide insight into what areas may not be stable enough or practicable for a water feature.
The article also reminds property owners to consider the size of their budget as they consider the size of their water feature. They state the the cost of a water feature, as the cost of any landscaping project can vary greatly, dependant upon the materials chosen, the size and shape of the feature, the design, and labor involved.
"A simple water feature will usually start at $1,700, and an sizeable ornate water feature can easily cost $30,000 or greater." B&D Rockeries does provide free estimates for clients that aren't sure whether their dream water feature would be considered simple or ornate.
For more information on the landscaping services provided by B&D Rockeries, view their services page: http://bdrockery.com/rockery/services/
About B&D Rockeries:
B&D Rockeries has been serving in the Snohomish and King county areas for over 35 years. Owner, Neil Eneix, has a capable and skilled knowledge of rock retaining wall development that will help you accomplish any rock garden design that you need. Whether you're looking for rocks or blocks, Neil has been helping homeowners carefully plot out their landscaping projects for years.
http://www.bdrockeries.com/
1249 NE 145th St
Seattle, WA 98125
206-362-4022