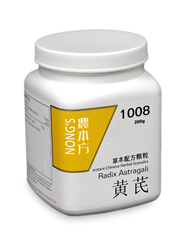 Mount Olive, NJ (PRWEB) September 22, 2014
Tronex Herbal Solutions, Inc. understands the increasing demands from consumers to know the specific contents of their dietary supplements. It is a matter of great pride that Nong's herbal supplement, Radix Astragali Formula Granules has received verification of dietary ingredient by United States Pharmacopeia (USP). During the verification process, USP conducted an on-site GMP audit of the production site at PuraPharm International (HK) Limited, No. 46, Keyuang Road, Nanning New and Hi-Tech Industrial Development Zone, Nanning, Guangxi, China 530007. USP finds PuraPharm International (HK) Limited's quality system provides adequate assurance that Radix Astragali Formula Granules, manufactured at the site above, meets the applicable monograph requirements set forth in the current edition of the United States Pharmacopeia–National Formulary, or such other criteria deemed suitable by USP.
Says Donald Chu, President and CEO of Tronex Herbal Solutions, Inc., "Nong's granulated herbs are the professional's choice for Chinese Herbal Medicine, preferred by acupuncturists and their patients."
Tronex Herbal Solutions maintains strict guidelines for quality control, testing every batch of product for controlled potency and consistency, as well as a wide range of pesticides and heavy metals. As with all Tronex Herbal Solutions products, Nong's Radix Astragali Formula Granules represents standardization of potency in herbal solutions for consistent efficacy and calculable treatment of patients' symptoms.
TRONEX HERBAL SOLUTIONS, INC.
Headquartered in the International Trade Center, Mount Olive, NJ, Tronex Herbal Solutions, Inc. has provided the most clinically advanced herbal supplements since 2008. Sourcing from farm to state-of-the-art manufacturing to United States distribution, every aspect of herbal production is tested and documented to meet cGMP Certification and all U.S. FDA industry requirements. Tronex Herbal Solutions provides professional grade herbal products, both singular and formulated, to help alleviate patients' symptoms with consistency and efficacy. A scientific manufacturing process of natural herbs for Traditional Chinese Medicine is verified by independent testing of every batch for controlled potency, as well as purity from pesticides and heavy metals. Acupuncturists, Herbalists, Naturopaths, and consumers trust Tronex Herbal Solutions to deliver consistent potency of herbs each and every time. To learn more, call 877-263-5119 or visit http://www.TronexRx.com.