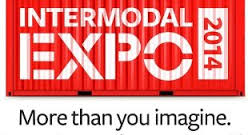 IANA is a beneficial event for all companies associated with transportation. We have gained knowledge to add to our intermodal technology solutions, as well as developing relationships. -Courtney Endsley Project Manager of GTG Technology Group, LLC
Houston, TX (PRWEB) September 18, 2014
The two-day event will be held at the Long Beach Convention Center in Long Beach, California on September 22nd and 23rd.
GTG's team of leading industry experts Jessica Bone, Sales Executive, and Courtney Endsley, Project Manager, will be at booth number 908 at the exclusive event. GTG's experts will provide high-level insight, trifold brochures, and promotional giveaways. For example, the GTG team will be holding a drawing for all IANA attendees to win a BeatsPill 2.0.
The GTG team will deliver information on how the Intermodal, Drayage and Brokerage systems can increase operations productivity by providing end-to-end visibility to management users. GTG will walk through a variety of time-saving features, which will include the benefits of creating templates for quick order entries. Also, GTG will be collecting requests for individual system demonstrations.
The IANA Intermodal Expo was created to promote the growth of efficient intermodal freight transportation through innovation, education and dialogue. The event will focus on the industry's products and services by examining different challenges encountered by industry professionals.
GTG is excited to showcase its transportation management systems at the event, and to learn about the different issues facing the intermodal freight industry. The event will allow GTG to engage in dynamic discussions with attendees, and in turn, foster the development of new sustainable software to resolve the current obstacles experienced by intermodal and drayage companies.
In addition to intermodal and drayage companies there will be a wide range of attendees at the event. The attendees will range from 3PLs, ocean carriers, motor carriers, railroads, equipment manufacturers and leading companies, to technology vendors, shippers/BCOs and intermodal industry professionals.
About GTG Technology Group, LLC:
GTG Technology Group, LLC helps to build software to manage global transportation management systems (TMS) for all sizes of intermodal and drayage transportation companies. GTG is dedicated to providing TMS solutions designed to provide end-to-end visibility and connectivity. GTG's software was engineered to help businesses in the transportation industry overcome challenges faster, cheaper and more efficiently. To learn more about GTG, visit http://gtgtechnologygroup.com/.
About IANA:
IANA is North America's leading industry trade association representing the combined interests of the intermodal freight industry. IANA's membership roster of over 1,000 corporate members includes railroads—Class I, short-line and regional; water carriers and stacktrain operators; port authorities; intermodal truckers and over-the-road highway carriers; intermodal marketing and logistics companies; and suppliers to the industry such as equipment manufacturers, intermodal leasing companies and consulting firms. IANA's associate (non-voting) members include shippers (defined as the beneficial owners of the freight to be shipped), academic institutions, government entities and non-profit associations.