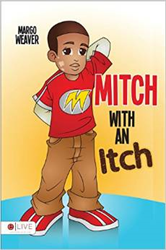 Mommy please read Mitch to make me feel better. Matthew, Age 6
APOPKA, Fla (PRWEB) September 18, 2014
According to the National Eczema Association, there are 30 million Americans who suffer from eczema, with many of them being children. In fact, they report that most people with the condition are first diagnosed as babies and children. The millions of children who have it often struggle with the emotional problems that can be brought on by eczema. A new book has been published aimed at helping these children feel better about who they are and to find relief from the condition over which they have no control.
"We are so happy to have developed a book that not only helps children better understand eczema, but it also helps them to have the confidence and faith they need to withstand the emotional aspects," explains Margo Weaver, of Epiphany Communications, Inc. "The book also helps children learn how important it is to lean on their faith during times of struggle."
The book, titled "Mitch with an Itch," is 36 pages in length and aimed at the elementary school-aged child, or younger with a parent helping. The book tells the story of a child named Mitch who suffers from eczema. The reader is taken along on his journey of being teased in school about the itchy rash other students can see, to his mother teaching Mitch how to look beyond what other students may say, and to look into his own heart and lean on his faith. Through his Christian faith he is able to stop letting his eczema keep him from having friends, and was able to find friends who appreciated him for who he was on the inside.
For many children, having eczema is an emotional roller coaster that leaves them feeling itchy, as well as having a red rash on their body. The rash is often found on the neck, wrists, and ankles, among other places. Those who have it have dry sensitive skin. Eczema, also called atopic dermatitis, symptoms can range from mild to severe, depending on the individual. Many children tend to grow out of it by the time they reach adulthood.
"The story comes from what we have been through with our own child having eczema, so it is our hope that this book can help others," added Weaver. "It will help those who have it, but it will also hopefully help those who don't to better understand the condition and that it doesn't make the person."
"Mitch with an Itch" is available in paperback and eBook through Amazon.com. Visit the site for more information: http://www.amazon.com/Mitch-With-Itch-Margo-Weaver/dp/163268781X/
Margo Weaver's mission is to utilize her personal life experiences infused with creativity to fulfill her passion for promoting personal progress in those who are experiencing challenging life experiences. Her book "Mitch with an Itch" focuses on helping children with eczema. For more information visit: http://www.margoweaver.com