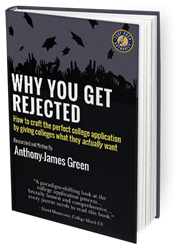 This book is going to revolutionize the way that people think about the college admissions process.
New York, New York (PRWEB) September 17, 2014
Anthony-James Green, widely regarded as one of the best SAT and ACT tutors in the country, has a habit of making waves in the test prep industry; in the last month alone, his practice has been featured in Business Insider, Slate, FOX News, and The New York Times. Not one to shy away from the spotlight (or controversy), Green has just released his new book, Why You Get Rejected, and he's making it available free of charge to every parent and student who visits his website. The book, which teaches parents and students exactly why colleges reject (and accept) their applications, will be featured in a full-page spread in the upcoming US News and World Report: Best Colleges edition, and can be downloaded via the following URL:
http://www.testprepauthority.com/whyyougetrejected/
There are countless books on college admissions, many offering contradictory advice to parents and students alike. Green explains his reasons for penning Why You Get Rejected (and why he's giving it away without charge):
"Almost every college book on the market teaches you what TO do," says Green. "Few, however, teach you what NOT to do – and that's a much more important lesson. Getting into college isn't about absolute value – it's about avoiding the chopping block. If you don't understand why admissions officers throw away applications, you're dead in the water. It doesn't matter how many ancillary actions you take if you're making fundamental mistakes – you're just putting icing on a stale cake. My book shows parents and students how to pick the right schools, solidify their fundamentals, avoid the biggest mistakes, and craft an application that appeals to the selfish interests of the colleges to which they're applying."
Green is no stranger to the college application process. He's tutored over 400 students 1-on-1, run his own test prep firm, trained over 100 tutors, and worked with thousands of students through his online software programs and charitable efforts.
"There's no theory involved in this book," says Green. "I've seen what works, and what doesn't work, firsthand. This book is a comprehensive guide to the entire admissions process, from start to finish. It's the product of thousands of hours immersed in the process, and I think it's going to revolutionize the way that people think about the application process. I see it as required reading for any parent or student in the application process."
Green, well known for his results in the test prep industry (his average SAT student improves by over 430 points, and his average ACT student improves by over 7), has also recently released an online ACT program, The Green ACT System. Parents and students can learn more via the following URL:
The program is a complement to his enormously successful Green SAT System, which has achieved average student score improvements higher than any other online program on the market. Both programs use Anthony's unique mix of strategic, tactical, and application-based insights to deliver enormous score improvements to their students.
Those interested in learning more about Green's personal tutoring practice, where he charges $1,100+/hour for his services, can visit the following URL:
http://www.NewYorksBestSATtutor.com
Green lives in New York City, where he tutors full time when he's not writing books or refining his curriculum. He's also the author of Test Prep for Parents, which parents can download via Amazon or on his online resource center, Test Prep Authority.
###