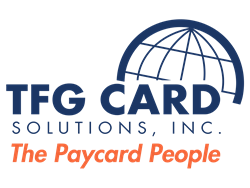 Employees who have never had access to direct deposit are very happy with the new benefits.
Oklahoma City, OK (PRWEB) September 17, 2014
TFG Card Solutions, a veteran trailblazer in the payroll prepaid card industry, is partnering with Caldwell Transportation, a successful and innovative company, which provides same day service for the delivery of lost and delayed luggage for airlines. TFG has developed a world-class pay card operation with Visa®, which eliminates the hassle and high costs of paper checks.
The TFG Visa Payroll Card seamlessly integrates into any payroll system and can be fully deployed in less than 10 days. Working with companies of all sizes and industry, TFG helps businesses like Caldwell Transport Company to save money by completely by providing unbanked employees a safe, secure, and convenient way to access their funds.
"The ease of setting up the card for our under-banked drivers has been a great experience and so far has run very smoothly. I have not received a single complaint about the switch and employees who have never had access to direct deposit are very happy with the new benefits. We should have signed up for this service earlier and I would definitely recommend it to other companies," said Caldwell Transport Company founding partner Jimmy Edelen.
"Caldwell Transportation Company is an extremely dependable, professional, and motivated company and we are thrilled about our partnership with them. Caldwell's unbeatable ability to provide same day dependable service for the delivery of lost and delayed luggage is known throughout airlines in their region. Caldwell needed a new payroll system to help support their rapid growth and our partnership could not be a better fit," stated TFG Card Solutions CEO Rick Holt.
About Caldwell Transport Company:
Founded and still managed by its founding partners, Caldwell Transport Company, LLC, began almost five years ago to service the delivery needs of the airlines in Oklahoma City, OK. The airlines needed a company to provide same day service for the delivery of lost and delayed luggage out of necessity for their passengers. Since the beginning, Caldwell has grown to service 12 airports across all parts of the country. Caldwell Transport Company exists to solve problems for the vendors, which has allowed it to expand the services into a wide variety of other markets, including the delivery of equipment for a few of the major sports teams in the cities it serves.
About TFG Card Solutions, Inc.:
TFG offers payroll prepaid card solutions that help businesses of all sizes increase direct deposit participation, maximizing their current direct deposit system and empowering unbanked employees. Payroll prepaid cards save companies money by cutting costs in check printing and shipping and employees eliminate the necessity of inconvenient and expensive check-cashing stores. For more information, visit http://www.tfgcard.com.
This card is issued by The Bancorp Bank pursuant to a license from Visa U.S.A. Inc. The Bancorp Bank; Member FDIC. Card may be used everywhere Visa debit cards are accepted.