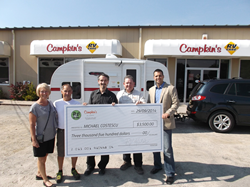 MIcheal C Wins $3500 contest from RVHotline and Campkins RV!
Toronto, Ontario (PRWEB) October 08, 2014
RVDA endorsed RVHotline, Canada's leading RV-only classified website, is giving Michael C. Of Oshawa ON $3500 towards his 2015 whitewater Retro trailer from Campkins RV Centre in Myrtle Station ON.
The Giveaway ran from January 1st until August 31st, 2014 and there was no cost associated with entering the Giveaway, entrants simply needed to accept the official Terms & Conditions to be included in the draw. More information can be found at http://www.rvhotline.com/giveaway
RVHotline has a proud history of supporting the Canadian RV industry and runs promotions and contests regularly to stimulate RV sales and to give participating dealers opportunities to offer their customers incentives. As Canada's largest RVDA endorsed classified website, the organization works closely with the Recreational Vehicle Dealers Association of Canada, as well as the provincial RVDA organizations.
The company plans to run the contest yearly if its success continues. Over 1000 entries were received in 2014.