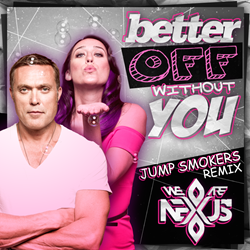 The Jump Smokers remix will be released on a short EP titled "Better Off Without You: The Remixes." Nexus fans can be sure to find the release everywhere music is sold
Chicago, IL (PRWEB) September 18, 2014
Keeping it local seems to be the way for rising EDM stars (We Are) Nexus. The duo have been turning heads in the national burgeoning EDM scene since their debut just one year ago. Their freshman debut in August of 2013 was a cover to Sonique's 1998 hit "It Feels So Good" and made both the iTunes Top 100 Dance and Billboard charts.
Fast forward to today and three singles later, their latest release, "Better Off Without You," shows the duo is growing and moving towards a crossover sound that includes catchy pop vocals.
"The backbone of what we do and love is dance but we are definitely including a more mainstream sound focusing on radio singles rather than club bangers," says Nick Gunn, producer and composer for Nexus.
Part of this Nexus evolution is working with remix teams that are known on both radio and in the clubs across the nation. Enter Jump Smokers, a house music DJ act from Chicago, IL, consisting of Roman, Flipside, Reydon and Johnny Digital. The first two members met in Chicago of 2009, performing in clubs across the Chicagoland area. In 2010 the duo moved to New York City and incorporated two more producers.
To date, Jump Smokers have released over 100 remixes, all of which have attained chart position within the United States. Their remix of Mia Martina's Latin Moon in 2011 peaked atop the American Club Music Charts and also attained a #5 position in the UK, a #17 in Sweden, and a #19 position in Germany by the end of the same year.
"We are so grateful to be working with Jump Smokers," says Carmen Rainier, vocalist and lyricist for (We Are) Nexus. "They did an incredible job of keeping the integrity of my vocals and the meaning of the song alive and well, which can get lost in remixes sometimes."
The Jump Smokers remix will be released on a short EP titled "Better Off Without You: The Remixes." Nexus fans can be sure to find the release everywhere music can be purchased on-line sometime next month.
Check out the exclusive teaser of "Better Off Without You (Jump Smokers Radio Edit)" on YouTube at: http://youtu.be/gK7IwT0m9wE
Become a citizen of Nexus Nation and earn points to win incredible swag at http://www.wearenexusedm/nexusnation. Follow (We Are) Nexus on FaceBook @WeAreNexusOfficialPage and on Twitter @WeAreNexusEDM.