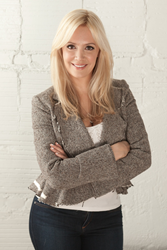 The chest has now become the new tell-tale sign of one's age.
Detroit, MI (PRWEB) September 17, 2014
Skin management experts™ at FACE Skincare Medical Wellness are excited to be of the first in the USA to introduce a new and innovative treatment, Ultherapy Décolletage Treatment, specifically designed to minimize the appearance of vertical chest lines and wrinkles. Ulthera, creator of Ultherapy, made waves in 2012 with the first FDA-cleared ultrasound based facial procedure to non-invasively lift the neck and face, and now they have expanded their brand into tightening and smoothing the upper body.
Unlike lasers, radio frequency, needles and toxins, Ultherapy bypasses the surface of the skin to deliver ultrasound energy safely at the right depths and the right temperature. The energy triggers a natural response under the skin, jumpstarting the regenerative process that produces new collagen reformation. This is a single-treatment procedure that takes 30 minutes without any downtime.
"The chest has now become the new tell-tale sign of one's age," says FACE founder Holly CaSaroll. "With the Ultherapy Décolletage Treatment, it's a single procedure that's safe, effective, without downtime, and sure to be the next celebrity buzz treatment."
Customers can learn more about this treatment and schedule a consultation by calling 248-663-0161.
About FACE Skincare~Medical~Wellness:
FACE is a multi-award winning beauty and wellness clinic that has been providing successful innovative solutions to skin conditions for over a decade. Founded by skin expert, Holly CaSaroll, FACE offers 24 laser and facial machines, liquid facelifts and body makeovers. Over 17 years ago, CaSaroll rebuilt her own skin, disfigured from cystic acne, and has since created one of the most extensive clinics around. CaSaroll is a go-to skin guru and has been featured on TV and a bevy of publications. She currently pens a monthly column in "My Magazine," titled "Ask the Expert." Their Skin Management Experts™ specialize in non-invasive therapies using their unique 3D Face Therapy™ approach to healing skin that accelerates results from a cellular level. Her wellness division, headed by Dr. Doug Cutler, a Licensed Naturopathic Physician, finds the root cause of imbalances in the body to create overall well-being from the inside out. To see what FACE can do for you, please visit http://www.facebeautyscience.com/.