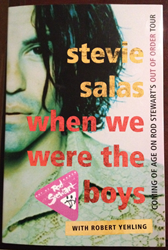 It's a fantasy for many people who have dreamed of being able to do what I did, but were not lucky enough to get there. It's about legendary musicians, private planes, sold out arenas, money and women...
Boulder, Colorado (PRWEB) September 17, 2014
When Rod Stewart set up his 1988 Out of Order Tour, one of the last great tours of rock & roll's golden rebellious age, he brought a 23-year-old lead guitarist into the veteran band.
A quarter century later, Stevie Salas has become one of the most accomplished singer-songwriter-guitarist-producers in the music industry. And his just-released memoir, When We Were The Boys (Taylor Trade, September 2014, 275 pgs., 978-1-58979-988-2, $17.95, Paperback), co-written with former American Idol Magazine editor Robert Yehling, sold out of its first printing in five days, according to publisher Taylor Trade, an imprint of the Rowman & Littlefield Publishing Group.
When We Were The Boys chronicles the 1988 Out of Order Tour through the eyes of Salas. "I was with Rod Stewart a few months ago talking about the book, and I told him it was a love story about a kid who worshiped his big brothers," he said. "It's a fantasy for many people who have dreamed of being able to do what I did, but were not lucky enough to get there. It's about legendary musicians, private planes, sold out arenas, money and women...and one very thankful young guitar player who joined the band a boy and left as a young man."
The book offers a reflective tone along with an action-packed recounting of Salas' stint with Stewart that is resonating across three generations of readers. Stewart has sold more than 200 million albums during his iconic career, while Salas has also sold several million solo albums on three continents and been named Guitar World's top guitarist at one point.
Added co-writer Yehling, "One of the things about When We Were The Boys is the way Stevie wanted to structure the countless stories in the book. Songwriters have to get in and out of stories in three to four minutes. We used the same approach. This has really connected with readers, as has Stevie's willingness to bare his feelings … not a common thing with many rock memoirs."
Salas went on to become a successful solo artist in three continents, the lead guitarist and musical director for Mick Jagger's 2001 solo tour, musical director with six American Idol stars, and Advisor to Contemporary Music at the Smithsonian Institution. He discusses his meteoric career rise, plus his formative years that led to his hiring by Rod Stewart, in When We Were The Boys.
Yehling is the author or co-author of 10 books, including A Champion's Journey and the forthcoming Just Add Water, about autistic international surfing great Clay Marzo. He is also the editor of Innovation & Tech Today magazine, which features a popular music industry and entertainment section.
E-book and enhanced e-book versions are also available, the latter offering not only a text read, but also additional photos, audio and video interviews. Stevie did not hold back during our interviews and, with his candor and honestly, made us feel like we were a part of his adventures over the years.," said Emmy Award-winning producer Ken Kebow, the producer of the enhanced e-book audio and video extras.
The authors will appear Saturday, Sept. 27 at Barnes & Noble in Encinitas, CA from 2-4 p.m. PDT. Among major music events, they are also planning to sign at the North American Music Manufacturers (NAMM) show in Anaheim, CA in January.
When We Were The Boys is available through all online booksellers, as well as chain and independent bookstores nationwide.
Praise for When We Were the Boys:
"Stevie taught me that music is a work in progress, and he proves that in When We Were the Boys. If not for Stevie, I could possibly be delivering a pizza to your house tonight. For that, and many other reasons, I'll love the guy forever." — Taylor Hawkins, Foo Fighters
"Just when things were getting dull, Stevie Salas pops his head above the parapet, waving his (very personal, I must say) take on the life full-throttle. It's rock 'n' roll taken to a place called EXTREME. Those with an aversion to sex & drugs, read at your own risk." — Simon LeBon, Duran Duran
For further information, contact publicist Jessica Plaskett at (203) 458-4511/jplaskett(at)rowman(dot)com or Yehling at (917) 826-7880.