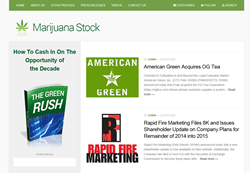 MarijuanaStock.net has also expanded it's company profile and video services to cannabis companies to help them draw in active investors
San Francisco, CA (PRWEB) September 17, 2014
MarijuanaStock.net, a cannabis business news website located at http://www.marijuanastock.net, recently launched a "Video" section that contains important news and information on the different cannabis companies in the marijuana industry made available in video format. With the new video section, a website visitor is given access to numerous interviews, news clips, and other short videos relevant to marijuana-related businesses and the issues they face.
The adding of the video further augments the recent addition of the website's "Stock Profiles" section which lists profiles of many of the top cannabis industry companies. When visitors click on a profile they are taken to a company overview page as well as recent relevant news headlines the company is making in the media. MarijuanaStock.net also picks and highlights relevant industry press releases that are of interest to visitors.
MarijuanaStock.net has also expanded it's company profile and video services to cannabis companies to help them draw in active investors through various online channels. Through a video interview companies will be able to help the market understand the feasibility of their business models. The companies profile, video and other content will get prominent placement on MarijuanStock.net and will also be syndicated and marketed around the internet.
MarijuanaStock.net strives to be a reliable online resource for investors, entrepreneurs, and others interested in the fast growing cannabis industry. Through its website, MarijuanaStock.net aims to provide visitors with the latest coverage on news, opinions, trend developments, legal implications, legislation, business opportunities, and investment opportunities.
As laws on marijuana continue to be rewritten and the market continues to develop, MarijuanaStock.net will filter through the abundance of online and offline material available on the industry and publish information that it deems noteworthy.
MarijuanaStock.net is part of a portfolio of cannabis related websites and has added video sections to them as well at http://www.bestmedicalmarijuanastocks.com (top medical marijuana company news), http://www.marijuanastocksreport.com (cannabis small cap stock news) & http://www.greenrushreview.com (general medical marijuana company news).
Cannabis companies seeking to be added to the company profiles section, add their press releases on any one (or all) of the websites, and/or gain exposure via a video interview can contact editorial(at)greenrushreview(dot)com for more information.