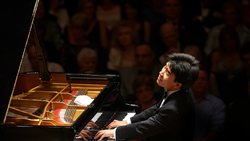 Toledo, OH (PRWEB) September 17, 2014
At the 2013 Cleveland International Piano Competition, Jiayan Sun electrified audiences with his performance of Tchaikovsky's beloved piano concerto under the baton of Stefan Sanderling, ultimately garnering the Audience Choice prize. This weekend they reprise their collaboration in this romantic season opener, featuring two of the most lyrical and passionate works of the Russian tradition.
This weekend's concerts will take place on Friday and Saturday at the Toledo Museum of Art's Peristyle at 8PM. After performing Tchaikovsky's Piano Concerto No. 1 with Jiayan Sun, the symphony will close the program with Rachmaninoff Symphony No. 2. Mr. Sun is an award winning pianist and Doctoral Fellow at The Juilliard School. He has performed in great halls around the world and with orchestras across the United States and Asia.
The concert will include a lecture about the program beginning at 7PM. The TSO will introduce Daniel John Carroll as its new program lecturer. Carroll recently moved to Toledo from Boston and will lecture at all Classics and Mozart programs.
For Tickets
Visit the Toledo Symphony Box Office at 1838 Parkwood Ave, Toledo (M-F 9-5), call (419) 246-8000, or click http://www.toledosymphony.com for online purchases. Tickets are also available at the door the evening of the concert. Tickets start at $30.
The Toledo Symphony
With roots as early as 1838, the Symphony sees itself as the musical heart of Northwest Ohio, supporting Neighborhood and Regional Concerts, a School of Music and three youth orchestras in addition to traditional concert offerings (Classics, Pops, Family, Mozart & More and Chamber).