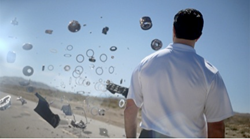 Venice, CA (PRWEB) September 17, 2014
AAMCO, the Horsham, PA headquartered automotive repair corporation, contracted directly with Venice, CA based Backyard to concept and produce a stunning new ad campaign titled "800 Pieces". Conceived and created by a Backyard team led by director Nick Piper and executive producer Blair Stribley, the spot features 800 auto transmission parts floating beautifully in the air before forming completely back into one whole transmission, all while an AAMCO technician interacts with the pieces and talking about the company's expertise.
To see the :90 "800 Pieces" click here: http://vimeo.com/101662133.
AAMCO's National Creative Committee Chairman Mike Ganjei approached his AOR and Backyard's President Blair Stribley, asking each of them to come up with a campaign that fit a new brief.
Says Ganjei: "Our new direction had several goals. First, to remind the consumer that AAMCO has been the nationwide experts in transmission repair for over 50 years. We also needed to inform the consumers that AAMCO can repair any part of your car and since we are experts with the most difficult part, the transmission, we are more than qualified to fix your brakes, muffler or even the car's engine. These points needed to be communicated in an effective, captivating way that made a quality statement about our brand."
Says Stribley: "Over the years, we have done a lot of comedy spots for AAMCO. They've always been fun projects, and over time, we developed a great, trusting working relationship with Mike Ganjei. When he contacted us with this opportunity, we jumped at the chance. The majority of our work comes from advertising agencies, and we love doing that work, but this was a chance to flex our creative muscles in a completely different way."
Backyard assembled a team that included director Nick Piper, CGI artist Tony Smoller from Vertical EFX, and freelance CD/copywriter Josh Caplan, who wrote copy on the project. The team spent several weeks developing a concept, and then pitched their ideas to Mike Ganjei. Ganjei was intrigued, and after the team refined the messaging and created motion tests to show how the spot would look, he awarded Backyard the project. The production included a two-day live action shoot in the desert, and nearly two months of CG modeling.
Comments Piper: "One piece of information we learned in our first meeting with Mike Ganjei really stuck in my mind. Apparently a car's transmission is built from more than 800 pieces. I thought 'Wow!? I wonder what they all look like?' And so I started to imagine a transmission being somehow magically pulled apart - like doing surgery on a Swiss watch - to reveal all those cogs, bearings and inner workings. I thought if we could somehow create an idea that captures the power of that imagery, then we could have something really beautiful and captivating on our hands."
Ganjei continues: "The final spots really exceeded our expectations. The AAMCO dealer group and the corporate team are excited to get these on air. They tell the right story about our brand and hit all the important points we've been looking to convey."
Stribley adds: "This process was very fulfilling for all of us at Backyard and AAMCO. It was especially exciting to be invited to the AAMCO National Convention last month to present our finished spots to all of the dealers. Based on the feedback we got from a lot of the stakeholders there, I feel like we were able to convey a large amount of important brand information while keeping the viewer engaged. Mission accomplished I think."
The campaign consists of one :90 piece for Internet and in-store usage, one :60 spot for online media buys, and four :30 spots for traditional TV. The broadcast spots will be airing mid-September.
Who is BACKYARD?
We are Backyard: a trusted production company, defined by genuine talent and driven by a commitment to deliver inspired creativity beyond expectations. With offices in Venice, New York City and Cape Town, Backyard utilizes its global reach to collaborate with top international clients from around the world.
Backyard is led by President/Partner Blair Stribley, Managing Director/Partner Chris Zander, VP/Executive Producer Kris Mathur, and Partner Tom Duff and his Partners at Optimus. Backyard takes pride in its down to earth team, and a collaborative approach that encourages loyalty and long-term relationships with clients.
For more information, please visit: http://www.backyard.com.
Credits
Client: AAMCO
Title: "800 Pieces," :90/:60/:30
Agency: direct-to-client
AAMCO
National Creative Committee Chairman: Mike Ganjei
Production Company: Backyard, Venice, CA
President/Partner: Blair Stribley
Managing Director/Partner: Chris Zander
VP/Executive Producer: Kris Mathur
Director/Creative Director/Flame Artist: Nick Piper
VFX Company: Vertical EFX
CGI Artist: Tony Smoller
Editor: Gary Gannon