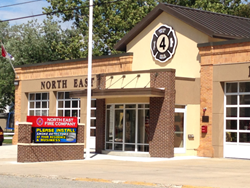 The North East Fire Company will be able to reach their community more effectively
North East, MD (PRWEB) September 17, 2014
On Jan 16th, 2014, the North East Fire Company announced they would embark on an 8 month long renovation / addition, which when completed, would give them and the community a state of the art firehouse & banquet hall, which included a brand new full color outdoor LED message sign.
The fire company called upon the team at KC Sign and Awnings to replace their existing changeable letter track sign with an easier and more effective solution for reaching their community: a new digital message sign. It was part of a larger remodeling effort which updated the fire station and banquet hall.
The new sign includes an illuminated ID cabinet with a full color LED message sign below installed on top of a new monument brick base. It is designed to provide the town with up-to-date information on emergencies and special notices as well as to promote events and the newly renovated banquet hall.
John Hamilton with the North East Fire Company stated, "The sign came out great!"
Joe Clark with KC Sign and Awnings added, "With the addition of the new Vantage LED message sign, the North East Fire Company will be able to reach their community more effectively uploading important, up-to-date information straight from their computer. The old changeable plastic letter sign was outdated, unsightly, and hard to use."
The North East Fire Company's website stated, "These renovations are being completed not only for our company, but for the community as well…We look forward to sharing these beautiful renovations with you."
The North East Fire Company has provided fire rescue and ambulatory services to the town of North East, MD since 1921. It's truly inspiring to see the community's support over the years and how much the fire company looks forward to paying it back.
About KC Sign and Awnings:
KC Sign and Awnings has been providing interior and exterior signage to the Mid-Atlantic Region for over 20 years, and have seen steady growth over that time. Originally in a single 2,000 square foot building, they now operate 3 locations serving the PA, DE, NJ, and MD areas, and manufacture signage at their 25,000 square foot facility in Aston, PA. They offer a wide variety of sign products, including awnings, channel letters, digital printing, electric signs and more. Additionally, they provide a full range of services like permitting, design, installation, project management, and service calls both locally and nationwide.