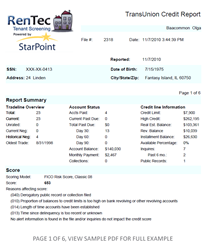 It is all about making the absolute best subscriber experience possible.
Grants Pass, OR (PRWEB) September 17, 2014
Rentec Direct, maker of leading property management has made some minor adjustments to their software due to the recent uptick of unsavory individuals posting fraudulent property listings on their service as well as other services such as Zillow, Trulia, etc. These individuals post fake rental listings in hopes to tempt unsuspecting renters into applying and paying them money to reserve the property. Unfortunately many renters are so eager to get into a property that many of them fall for the scam. To help combat this behavior Rentec is instituting some new rules to prevent abuse. They will no longer automatically allow unverified users to post advertisements via Rentec to third party sites via their rental listing syndication service. For most people and in most cases Rentec can automatically verify the information of new subscribers; however, if they are for some reason unable to do so a notice on the marketing page will link to this article and require the following information via facsimile or email.
A copy of photo ID
plus any of the following:
A copy of a utility bill for the address you are attempting to list
A copy of a mortgage statement showing the address
A copy of a property tax bill showing the address
A copy of a management agreement showing the address
Send both documents by fax to 888-882-1062 or email to docs(at)rentecdirect(dot)com.
If these documents aren't handy, contact customer service staff at 800-881-5139 and Rentec Direct can verify your information over the phone.
When asked why Rentec Direct puts so much effort into improving there software? Nathan Miller, President of Rentec Direct replied, "It is all about making the absolute best subscriber experience possible."
To learn more about Rentec Direct or to obtain a 30-day full featured free trial of the software, visit http://www.rentecdirect.com/
About Rentec Direct
Rentec Direct provides cloud based rental software solutions for property managers and landlords. Other popular solutions offered by Rentec include tenant ACH payment processing, tenant screening, and online syndication of vacancies to more than twenty popular websites.