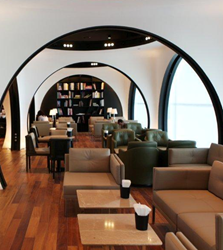 The business class lounge in Istanbul is like being in Disneyland. Not only is it immense, it's better than any first class lounge I have visited. You don't want to leave, it is that good.
San Bruno, CA (PRWEB) September 26, 2014
IFlyBusiness is excited to offer super deals in Business Class on flights to Europe for next summer. Visit our website here:. Business class is Turkish Airlines' highest class of service and offers some of the best inflight perks.
Although flights to Europe are available through out the year for the months of April, May, June and July 2015 routes from San Francisco to Europe are surprisingly low for an award winning airline. Since Spring and Summer months are amongst the more popular seasons to travel IFlyBusiness recommends booking discounted seats sooner rather than later because availability is limited.
Sample fares below are per round-trip ticket.
1) Western Europe fares start at
$2490 Round-trip.
2) Eastern Europe fares start at
$2950 Round-trip.
Voted 'Best Airline in Europe' four consecutive years and rated one of the best overall by Skytrax, Turkish Airlines' Business class cabins were designed for relaxation and prestige. Fully flat beds with ottoman, touch-button adjustable seats with massage capabilities and large individual touch screens are some of the few examples of how Turkish Airlines sets the standard. Welcome drinks before take off are offered and hot meals are served on porcelain plates. Additionally, snacks, Turkish coffee and sweets are available throughout the duration of the flight and in between meals. Laptop outlets, noise cancelling headsets, and over 350 movies are also available for entertainment. So whether on vacation or traveling for work, Turkish Airlines ensures maximum comfort and convenience.
While at the airport, in Istanbul visit Turkish Airlines business class lounge. Greg Pavlovsky, owner of IflyBusiness traveled to Europe this April and visited the grand lounge. Pavlovsky states, "The business class lounge in Istanbul is like being in Disneyland; there is so much to do. Not only is it immense, it's better than any first class lounge I have visited. In the end you don't want to leave." He continues with, "I wished my layover was longer, it is that good." The quickest response is to call and speak with an agent at 1-800-807-9834 or fill out a request form online at http://www.iflybusiness.com. While the best deals are for available for next year, Pavlovsky predicts these flights will go quickly because the fares offered are such competitively low prices.
About Us: Iflybusiness is a premium travel company specializing in international discounted business class tickets, business class airfares and first class travel. At Iflybusiness we assure comfort and satisfaction to passengers and that travel is only achieved on reputable airline carriers. We are committed to exceeding client expectations and pride ourselves in our AAA rating with the Better Business Bureau.