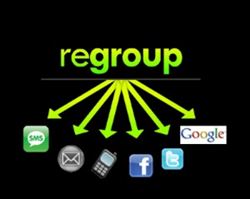 Attend webinar to learn how to increase engagement, cut communication cost and streamline mass messaging.
San Francisco, California (PRWEB) September 18, 2014
Regroup's webinar, "Maximizing the Value of Mass Notification Systems" will show attendees how their organization can increase productivity and drastically cut the costs of emergency & day-to-day communications with a Mass Notification System (MNS).
To ensure a maximum number of organizations can benefit from the best practices that will be discussed, Regroup will be presenting this webinar live on two dates. Attendees may register to attend the webinar Tuesday, September 23rd at 2PM EDT by clicking here: http://bit.ly/1wAbtYQ or register to attend Wednesday, September 24th at 2PM EDT by clicking here: http://bit.ly/1u2yOO8.
Topics that will be discussed in this webinar include insights on how to:
+ Reduce the time & manpower needed to communicate with an entire organization
+ Maximize engagement by integrating a MNS with existing communication methods
+ Overcome critical challenges of why organizations underutilize Mass Notification Systems
About Regroup:
Regroup, the leading Emergency and Mass Notification System, offers easy one-click messaging to mobile phones (text/voice), landlines, email, social media, websites, and more. Regroup stands apart from other mass messaging systems with its ease of use, seamless integration with social media and client databases, unparalleled reliability and unlimited text/voice/email messaging.
Regroup currently serves government clients such as the City & County of San Francisco, educational institutions, non-profits and businesses. To learn more about Regroup's Emergency Notification System, please call 917-746-6776 or email inquiries(at)regroup(dot)com.
For a Live Demo of Regroup's Mass Notification System, sign up here: http://bit.ly/1wAd2pD