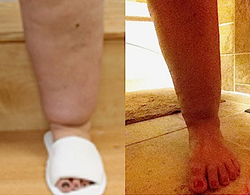 Lymph-sparing liposuction can provide good long-term results in reduction of pain and stopping the progression of lipedema.
New York, NY (PRWEB) September 16, 2014
"The most important consideration for any woman who suspects she may have lipedema is to have a proper diagnosis," says Dr. David Greuner, appearing on ABC News in a story on lipedema and the latest treatments. "Some lipedema symptoms can mimic those of lymphedema, which often accompanies lipedema."
The story focuses on Dr. Greuner's patient Vicki, who is shown before undergoing her first surgery to reduce the amount of fat in her legs, using a specialized form of liposuction. Dr. Greuner is the surgical director of Lipedema Centers at NYC Surgical Associates.
"So far, very few doctors are treating lipedema because of a lack of education about the condition," says Dr. Greuner. "Although lipedema has been treated for years in Europe, it is a relatively new condition to the medical community in the US. Many women suffering from lipedema, which number an estimated 11% of the female population are often surprised to learn that they have a disease that can be treated."
"Visible signs of lipedema include legs which are symmetrically enlarged between the hips and ankles, often with a ring of fatty tissue overlapping the top of the feet," says Dr. Greuner. "The legs can be pale in color and will feel colder than the rest of the body. The skin has a dough - like feel and varicose veins can often be seen under the skin.  Patients usually complain about pain in their legs and knees, and have tenderness when pressure is applied on the affected areas. Lipedema often causes reduced mobility."
"If left untreated, lipedema inhibits the lymphatic system from its ability to perform one of its most basic functions, the removal of water from the tissues, causing lymphedema.  If this occurs, fluid will accumulate and edema develops in addition to lipedema.  The immune system is also affected and the risk for cellulitis increases. The fat cells in lipedema are dysfunctional, and tend to be localized in certain areas of the body so it's not uncommon to see a woman who has a very thin torso and a very large lower body. That's quite typical of lipedema."
"While there are some conservative treatments that can reduce the pain of lipedema and the development of secondary lymphedema, these non-surgical methods do not seem to have a long -term effect on lipedemic fat tissue. Because of this, the only successful long term treatment for lipedema is a form of tumescent liposuction called 'lymph-sparing' liposuction," says Dr. Greuner.
"Available data suggests that with tumescent liposuction the surgeon can remove the excess fat and prevent the return of lipedema with little to no side effects," says Dr. Greuner. 
For information on lipedema and lymphedema diagnosis and treatment options call Lipedema Centers at NYC Surgical Associates at 888-286-6600 and visit http://www.lipedemasurgery.com Clinics are located in Manhattan, Brooklyn, Long Island and New Jersey.
#####