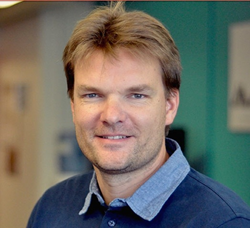 I'd like to take the opportunity to thank our clients who are partnering with us and challenging us on a daily basis, as well as the Cedexis team.
Portland, Oregon and Paris, France (PRWEB) September 17, 2014
Cedexis, the leading provider of cloud-based, global load balancing solutions, announced today that Cedexis co-founder and General Manager for Europe, Julien Coulon, has been recognized as a winner of the Ernst and Young Entrepreneur of the Year Award in the "Business of the Future" category for Paris, France.
The Ernst and Young Entrepreneur Award recognizes entrepreneurs who "brilliantly demonstrate talent and boldness, with extraordinary passion for creating, growing and sharing." At the regional award ceremony, Cedexis was specifically acknowledged for its efforts to share Web performance information via the recent publication of the GESTE Report. The GESTE Report is an independent Internet Quality of Service Report designed to help improve access times to Web content and services for every household in France. Powered by Cedexis Radar, a RUM-based, crowd-sourced website performance measurement tool, GESTE provides objective data to help website content publishers improve content delivery.
After receiving his Innovation Award, Julien Coulon said, "I'd like to take the opportunity to thank our clients who are partnering with us and challenging us on a daily basis, as well as the Cedexis team, which demonstrates an on-going commitment to the building of a faster Web for everyone by everyone."
This year, the champions of entrepreneurship were selected from seven major French regions to compete for regional and national Ernst and Young Entrepreneur Awards, which will be announced on October 13. One of the seven regional winners will be designated National Entrepreneur of the Year 2014, and will then carry the colors of France to compete at the World level, for the World Entrepreneur of the Year, alongside his/her peers from 58 countries.
About Cedexis
Founded in 2009, Cedexis monitors and optimizes the performance of cloud-based Web and mobile applications. This enables Cedexis' customers to improve their users' experiences, and achieve 100% availability, while extending their reach into new global markets. With Cedexis Radar, enterprises gain unprecedented, real-time visibility into how cloud performance is impacting the real-user experience for their Web and mobile applications, in order to make informed decisions about their infrastructure providers. Cedexis Openmix leverages Radar insight, as well as real-time data sets from 3rd party sources, to provide automated and optimized traffic load balancing across mixed clouds, data centers and CDN topologies. This allows customers to match the best-performing resources with real-time demand. Cedexis is headquartered in Portland, Oregon and Paris, France with offices in San Francisco, CA, Chicago, IL and London, UK.
# # #
Press contact (USA-Canada):
Frances Mann-Craik
Addison Marketing
Mail: frances(AT)addisonmarketing(DOT)com
Tel: +1 408 868-9577