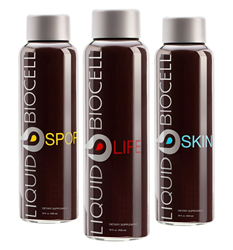 All of the announcements made at our fifth annual convention are the proud results of incredible leadership teams at corporate and in the field.
Anaheim, CA (PRWEB) September 16, 2014
On Friday, September 12, Jusuru International announced the launch of two new product extensions, an accompanying mobile application, the grand-opening of their new national headquarters, several novel marketing tools for their sales force, and their sponsorship of the international non-profit Vitamin Angels at their 5th annual national convention, Rise to Enterprise 2014 (R2E14).
The standing room only crowd at the Hyatt Regency Orange County was treated to a new kind of bottle service in celebration of Jusuru's announcements on Friday. Bottles of the company's flagship product, Liquid BioCell™ LIFE, were set on ice at every table, and LIFE was flowing. When Jusuru's President, Asma Ishaq, introduced Liquid BioCell™'s two new product extensions, Liquid BioCell™ SKIN and Liquid BioCell™ SPORT, the staff entered the room with trays of the new bottles, and the hundreds of attendees erupted in a standing ovation.
Ishaq announced Liquid BioCell™ SKIN as the next generation of nutricosmetics. The advanced skin science nutricosmetic is designed to keep skin looking younger longer by coupling the award-winning, multi-patented science of its leading ingredient, Liquid BioCell™, with an unparalleled combination of skin beautifying factors in a unique, fast-acting liquid delivery system. The science of Liquid BioCell™ is clinically shown to counteract skin's premature aging and photoaging by reducing deep lines and wrinkles, decreasing dryness, increasing collagen, improving microcirculation, skin tone and firmness, and reducing hyaluronidase, the enzyme that can make your skin age. Other key ingredients in Liquid BioCell™ SKIN include ceramides to support the skin's hydration, firmness and elasticity; Vitamin C for boosting collagen production and skin repair; bamboo extract for strengthening the skin; green tea and grapeseed extracts to help skin resist collagen breakdown, UV damage and age-inducing oxidative stress; and 14 antioxidant phytonutrient fruits.
The audience at R2E14 rose to their feet again when Ishaq announced the release of "Hello Beautiful," a mobile application created to enable users of Liquid BioCell™ SKIN to track their results by taking a series of Before & After "selfies." The app includes markings to guide users to align their face in exactly the same way for each photo. Reminders will be set to take photos at 30, 60, and 90 day intervals, and all photos will be time and date stamped so they cannot be altered.
Attendees at R2E14 were doubly impressed when Ishaq revealed Jusuru's second new product extension, Liquid BioCell™ SPORT. Jusuru has answered the demand from pro athletes, weekend warriors, yoga moms, and everyone in between for a safe, natural athletic performance enhancer that will enable them to move faster, go longer, and recover quicker. NSF certified for sport, Liquid BioCell™ SPORT matches the joint health science of Liquid BioCell™ with cutting-edge performance enhancing nutraceuticals like BCAAs branched-chain amino acids (L-leucine, L-valine, L-isoleucine), L-carnitine, rhodiola and astragalus extracts, and nine potent antioxidants to improve joint mobility and lubrication; reduce discomfort; promote healthy cartilage and connective tissues; help protect, repair and rebuild muscle; boost energy and mental focus; reduce fatigue caused by buildup of lactic acid in the muscles; support physical and mental stress; help neutralize the free radicals that cause cell damage; and begin the chain reaction toward cell repair and rejuvenation.
Accompanying the new products, also launched were a new product catalogue and the Jusuru Media Center, a new one stop online library of professionally designed marketing materials for the company's independent representatives to use. With this technology platform, videos, audios, online presentations, ecards, brochures, flyers, invites and more are able to be personalized and shared in seconds by email, social media, print-ready files, and print-on-demand. Users can also measure the results of their marketing efforts with the click of a button.
Having outgrown their previous two headquarters in less than three years, Jusuru officially opened their new headquarters in Anaheim, California and invited R2E14 attendees to tour the state-of-the-art facilities. A 700-seat, fully-equipped, special event auditorium, beautiful meeting lounge, personal training rooms, expanded will-call desk, expansive lobby, and the Jusuru Store are contained within the complex, expanding its manufacturing facility located next door.
Ishaq also chose the convention to announce a new sponsorship that will formalize Jusuru's commitment as a socially responsible enterprise. Jusuru has partnered with Vitamin Angels, an international non-profit that helps at-risk populations in need – specifically pregnant women, new mothers, and children under five – gain access to lifesaving and life changing vitamins and minerals. In the shopping cart on Jusuru's website, buyers will have the ability to choose to donate $1, $5, or $10 as they check out. Every $10 donation provides life-saving vitamins to 40 children for an entire year. Jusuru will match the tax-deductible donations.
"All of the announcements made at our fifth annual convention are the proud results of incredible leadership teams at corporate and in the field. It was certainly our best year and event in our company's history, and we will continue the enthusiasm, investment in training and personal development, innovative marketing tools, and dedication to science-based products to our consumers and representatives into an exciting future," stated Ishaq.
The event culminated with a Recognition Awards event at which Jusuru International's independent representatives celebrated their achievements and growth, with one qualifying individual winning $10,000 with the company's "Keys to Success" sales promotion. Anticipating record growth and expansion in the coming year, the company announced its next annual conference, R2E15, which will be held in Las Vegas September 10-12, 2015, and will include Robert Kiyosaki, author of Rich Dad, Poor Dad as its keynote speaker.
About the Company:
Jusuru International, Inc., headquartered in Anaheim, California, is the company behind Liquid BioCell™, a new generation of nutraceuticals for healthy aging, active joints and younger-looking skin. Liquid BioCell™ LIFE, the company's flagship liquid nutritional supplement, is backed by 37 clinical studies, 7 US and international patents and has received numerous industry awards. Jusuru is committed to delivering the most advanced nutritional supplements and skincare made with the highest quality ingredients. Its executive team supports the company's rapidly expanding network of independent representatives with decades of experience in health, science and business. Jusuru is a proud member of the Direct Selling Association (DSA).
For more information on Jusuru products or the company, please contact Jusuru International, Inc. at (714) 678-1600 or visit http://www.jusuru.com.
# # #