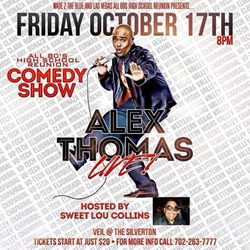 Las Vegas, NV (PRWEB) September 18, 2014
Ink Master Viewing Party
Dates: Tuesdays
Time: 5 p.m. – 8 p.m.
Admission Cost: Free
Venue: Shady Grove Lounge
Event Info: Ink Master reality television show will take center stage every Tuesday night with a viewing party and live radio remote from 5 p.m.-8 p.m. Special guest, Cleen Rock One of Chrome Gypsy Tattoo Las Vegas will be at the viewing party each week to discuss that night's episode. Guests can enjoy food and drink specials while watching the new episode of Ink Master. Chrome Gypsy Tattoo is giving away a tattoo each week and guests can register to win a grand prize valued at $1,000. Must be 21 years of age or older and must be present to win.
Comedian Alex Thomas
Dates: Friday, October 17
Time: Doors at 8 p.m.; Show at 9 p.m.
Admission Cost: $20 General Admission; $40 Meet & Greet
Venue: Veil Pavilion
Event Info: Silverton Casino and Wade 2 The Blue are presenting an All 80's High School Reunion Comedy Show featuring comedian Alex Thomas, hosted by Sweet Lou Collins on Friday, October 17 at 9 p.m. Audience members will experience the best of Alex Thomas live inside Veil Pavilion where his irreverent point of view is on full display.
Thomas actually grew up with a musical background, but quickly found that telling jokes was more his style. He was the class clown during his school years and just after graduating high school he landed his first job in the entertainment industry by appearing on In Living Color as the choreographer for the infamous Fly Girls. Thomas was known as the funny guy on set, and it was there that he was encouraged to pursue comedy. Just two years later, while performing at the Laugh Factory in Hollywood, California, audience member and fan Will Smith hired him as the writer for the hit sitcom, The Fresh Prince of Bel-Air, where he wrote for three seasons. As his career took off, Thomas stared in two one hour comedy specials on Showtime and BET's ComicView, including opening stand-up for stars such as Sinbad, Jamie Foxx, and Bill Cosby. To add to his multifaceted success, Alex can be found on multiple hit sitcoms including The Jaimie Foxx Show, Moesha, The Wayans Bros, Family Guy, King of the Hill and Batman Beyond as well as an appearance on the NBC's The Tonight Show with Jay Leno. As if tackling sitcom writing, stand-up, television, and Showtime wasn't enough, Thomas appeared in several hit films and is a semi-successful hip-hop artist performing with Kanye West, P. Diddy, Snoop Dogg and 50 Cent. General admission tickets are just $20; meet and greet tickets available for $40 with limited availability. Tickets are available online, at http://www.silvertoncasino.com. Ticket price subject to all fees, sales tax and L.E.T. Must be 21 years of age or older.
Peace Frog – Tribute to THE DOORS
Dates: Saturday, October 25
Time: 7 p.m. Doors; 8 p.m.
Admission Cost: $14.95
Venue: Veil Pavilion
Event Info: Embodying the drama and rock theater that made The Doors famous is what makes Peace Frog's show unique and has kept loyal fans entranced for 16 years. Audience members experience the dark and moody, mystical and hypnotic recreation of the true likeness, presence, spirit and vocals of Jim Morrison and the band. Fans can expect intoxicating renditions of "Hello, I Love You", "Light My Fire", "L.A. Woman", "The End" and many of The Doors classic songs. This is the one and only show in Las Vegas this year for Peace Frog. Tickets start at just $14.95 and are available online, at http://www.silvertoncasino.com. All ages show. Guests under 18 years of age must be accompanied by an adult. Ticket price subject to all fees, sales tax and L.E.T.
About Silverton Casino Hotel
Silverton Casino Hotel offers 300 deluxe rooms and suites and world-class amenities all located within an upscale, contemporary luxury lodge-themed resort. Silverton Casino Hotel is home to a variety of restaurants and dining options, including the Seasons Buffet, the 24-hour Sundance Grill, Shady Grove Lounge, Twin Creeks Steakhouse, Mi Casa Grill Cantina, Starbucks and Johnny Rockets. In addition to the flagship 165,000-square-foot Bass Pro Shops Outdoor World, Silverton offers 90,000 square feet of gaming with more than 1,900 slot machines and 30 table games, and the Mermaid Restaurant & Lounge. The property features a 117,000-gallon saltwater aquarium with more than 4,000 sharks, stingrays and tropical fish, which was voted "Best Free Attraction" in the Best of City Search®. Silverton Casino Hotel is located at I-15 and Blue Diamond in Las Vegas. For more information, please call (702) 263-7777 or visit http://www.silvertoncasino.com.
###