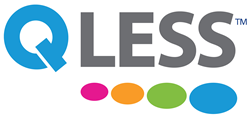 We believe time matters, and we're on a mission to eliminate waiting lines worldwide.
PASADENA, Calif. (PRWEB) September 17, 2014
QLess, the company behind the leading mobile technology that eliminates physical lines, today announced that it took home the Gold Stevie® Award for Best Computer Services Company at the 2014 American Business Awards℠ for the second year in a row, as well as a 2014 International Business Awards℠ Sliver Stevie win in the Best Computer Services Company of the Year category. QLess was crowned a winner for its intuitive mobile wait technology, which allows businesses to manage how, when and where customers are served. Through its mobile wait platform, QLess grants retail businesses, healthcare facilities, DMVs, educational campuses and any institution where people wait, increased customer satisfaction and improved operational efficiencies.
"We believe time matters, and we're on a mission to eliminate waiting lines worldwide. With QLess, a business can be more efficient and profitable by implementing our seamless queue experience. Our technology has liberated more than 20 million people from waits long and short, collectively giving humankind more than 500 years back, while simultaneously giving control back to an organization," said Alex Bäcker, founder and CEO of QLess. "We're honored to be recognized by the International Business Awards and American Business Awards alongside other leading technology companies."
These wins mark QLess' 12th Stevie Award in the past five years, including eight International Business Awards and four American Business Awards. The award-winning technology is a cloud-based wait management solution proven to help organizations eliminate lines, reduce wait times, and engage effectively with customers. QLess' technology allows customers to add their name to a virtual queue—from any mobile phone, the Web, an in-store kiosk, a tablet, and more—and wait to be served at a location convenient to them. Additionally, QLess equips organizations large and small with flexible solutions and comprehensive analytics that provide greater control over scheduling and customer flow. QLess customers include colleges and universities, healthcare facilities, government organizations, retailers, restaurants and more.
"We're delighted to recognize so many innovative companies, new products, technical achievements, and technology executives this year," said Michael Gallagher, president and founder of the Stevie Awards. "We congratulate all of the Stevie Award winners, and thank them for the inspiration their achievements have stimulated."
As a premiere awards program, the Stevie Awards honor organizations—public and private, for-profit and non-profit—and the people behind them for outstanding performance in the workplace. This year the American Business Awards received more than 3,300 nominations from a variety of organizations while the International Business Awards judges reviewed more than 3,500 stories of business achievement and innovation from around the world.
Details about the American Business Awards and list of Stevie Award winners are available at http://www.StevieAwards.com/ABA. Similarly, information about the International Business Awards and winners can be found at http://www.StevieAwards.com/IBA.
To learn more about QLess, please visit http://www.qless.com.
About the Stevie Awards
Stevie Awards are conferred in six programs: The American Business Awards, the German Stevie Awards, The International Business Awards, the Stevie Awards for Women in Business, the Stevie Awards for Sales & Customer Service, and the Asia-Pacific Stevie Awards. Honoring organizations of all types and sizes and the people behind them, the Stevie's recognize outstanding performances in the workplace worldwide. Learn more about the Stevie Awards at http://www.StevieAwards.com.
About QLess
QLess is the global leader in mobile wait management. The company helps organizations dramatically improve customer experiences by eliminating lines and offering convenient ways to make and manage appointments. QLess' patented, cloud-based virtual line technology helps make businesses more profitable and efficient by improving productivity and aligning resources with customer traffic patterns. QLess clients span five continents and include government offices/DMVs, universities, urgent care centers, and local and multinational retailers, including Vodafone. Organizations of all sizes offer QLess to customers through in-store kiosks, mobile phones, tablets, or websites. For more information, please visit http://www.qless.com.