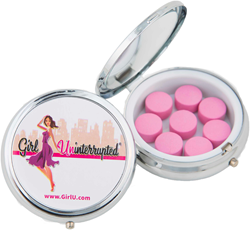 For a syndrome that affects almost every woman at some point in her life, it's about time for a product that doesn't just numb the discomfort of PMS, but rather one that provides relief in a safe, effective way, by using all-natural ingredients.
San Diego, Calif. (PRWEB) September 17, 2014
There's something changing the course of Mother Nature's monthly interruptions, giving girls of all ages an all-natural option for PMS relief. Magpie, LLC, a wellness company founded by women, for women, announces the launch of its all-natural, fast-acting supplement, Girl Uninterrupted® (http://GirlU.com) to relieve the symptoms commonly associated with monthly menstruation, such as cramps, bloating and irritability.
As a lifelong health enthusiast and busy fitness professional who was always on the go, Magpie, LLC's Founder, Mayling Kajiya, developed Girl Uninterrupted for women who could not afford to have their lives interrupted by PMS symptoms, several days each month.
A Wellesley graduate, who also holds a Plant-Based Nutrition Certification from Cornell, Mayling always opted for all-natural products and consulted with fellow nutrition experts, science professionals and healthcare practitioners to derive a highly effective, safe and all-natural alternative to over-the-counter ("OTC") drugs on the market.
"Working with women in an active, health-focused setting for my entire career led me to see the many ways in which PMS symptoms were affecting them, as well as their discomfort with taking OTC drugs that were packed with acetaminophen and caffeine, to relieve them," said Mayling. "The result was missed workouts, binge eating and being bedridden due to pain; their lives were interrupted every month, and something had to be done. That's when I got to work on Girl Uninterrupted."
After years of refinements, market testing brought in positive feedback for the PMS-relief supplement's all-natural, simple ingredients that successfully reduced the symptoms that accompanied "that time of the month." Now in production, Girl Uninterrupted is officially launching in its healthiest, most convenient form yet, and is now available for purchase on Amazon.com.
"For a syndrome that affects almost every woman at some point in her life, it's about time for a product that doesn't just numb the discomfort of PMS with the same medicine one would take to get rid of a headache or sore throat, but rather one that provides relief in a safe, effective way, by using all-natural ingredients," said Mayling. "Furthermore, most of the options for PMS relief that have been made available contain a bunch of ingredients that are both mysterious and taxing on the body, almost defeating the purpose of a 'relief' supplement."
Girl Uninterrupted's formula, packed in a small pink tablet, is made up of only five active ingredients, free of preservatives, added sugar and artificial coloring; they are:

(1) Griffonia Seed Extract – a natural source of 5-HTP, an amino acid that directly affects the serotonin receptors in the brain, causing a sensation of relaxation without drowsiness;
(2) Green Tea Extract - a herbal derivative that contains powerful antioxidants, which act as a light diuretic when taken during PMS, relieving bloating, and a trace amount of caffeine, which increases energy levels and focus;
A blend of (3) Red Clover, (4) Chaste Tree Berry and (5) Saw Palmetto - each of which is considered an estrogen-supporting herb, and which together help in balancing female hormones during PMS.
Girl Uninterrupted is currently the only PMS product on the market that makes use of 5-HTP, a safe, essential amino acid the body needs (and usually gets from food), but does not itself produce. When consumed, it directly affects serotonin receptors, causing positive mood enhancements and promotes relaxation, without drowsiness.
Mayling noted, "In addition to the physical and mental benefits of Girl Uninterrupted, our team's other mission has been to wipe away the embarrassment associated with menstruation and its effects, which is why our tablets are packed in a chic-looking compact that even has a little mirror, so women won't be ashamed to 'whip it out' when with their friends or in public."
Girl Uninterrupted will be sold in a 1-month supply package of eight (8) tablets (including the compact), for $14.99 and a 3-month supply package of 24 tablets, for $24.99.
To learn more about the product, see interviews with Mayling, or find out more about PMS relief, please visit, http://GirlU.com.
About Girl Uninterrupted®
Girl Uninterrupted, the fast-acting, all-natural PMS relief tablet that lets you live your life without interruption
Girl Uninterrupted is an all-natural blend of essential amino acids and herbs that have been specifically formulated to address the more common symptoms of PMS, such as cramps, bloating and irritability. The product comes in 1-month supply packages of eight tablets and 3-month refill packages of 24 tablets.
Distributed by Magpie, LCC, a women's wellness company founded by Mayling Kajiya, the safe and effective supplement boasts three key attributes:
1. Effectiveness: 5-HTP, which is the primary active ingredient in Girl Uninterrupted, directly affects serotonin receptors, which causes positive mood enhancement and promotes a sense of relaxation without causing drowsiness
2. Simplicity: Girl Uninterrupted is made up of a proprietary blend of five safe and simple active ingredients and is GMO-free as well as free of preservatives, added sugars and artificial colors (all dyes are food based).
3. Adaptability: With a goal to mold the products around a woman's life, rather than vice versa, the tablets are packaged in a discrete and easy-to-carry compact (with a mirror) that omits the word "PMS" from the label.
Girl Uninterrupted is proudly manufactured at a GMP and NSF certified facility in the state of California.
For more information, visit http://GirlU.com.