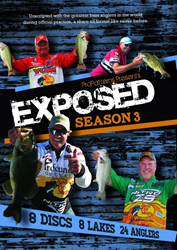 Yankton, South Dakota (PRWEB) September 18, 2014
Upcoming changes to http://www.ProPatterns.com involve a facelift to the site's interactive journaling function, which will offer ProPatterns Elite members simple interactive tools to build their own Member Profile page. Each Member Profile page will allow anglers the chance to shape their own brand and gain exposure using an online platform solely dedicated to promoting the sport of fishing.
In addition to anglers being able to upload profile pictures and biographical information, anglers will also have the opportunity to link to their own personal websites, Facebook pages, Twitter accounts and Youtube pages. Each Member Profile page will also dedicate a section of the page to "My Adventures." With this multimedia interface, anglers may post journal entries involving the specifics of their catches, run tweets relevant to their adventures, and document their adventures with videos and photos.
ProPatterns Elite Members have the chance to browse Member Profiles and follow other anglers with a click of the "Inspires Me" button. This significant upgrade to ProPatterns.com becomes available on October 1st. Once members build their own Member Profile, posting and adding content only takes a few clicks.
The ProPatterns storefront will also be gaining a new addition on October 1st with the complete DVD set of Exposed Season 3 ready to ship. The DVD set comes in an eight disk collection offering over 16 hours of behind-the-scenes footage. Filmed in 2013 on competition waters across North America, Exposed Season 3 follows 24 of the best anglers on the Elite trail.
This behind-the-scenes footage, filmed exclusively by ProPatterns, Inc., follows these pros during official practice days leading up to Elite competition. The series takes the viewer into boat with the anglers as they study competition waters and offer the secrets that have elevated them to Elite status.
Exposed Season 3 features Dennis Tietje, Charlie Hartley, and Takahiro Omori at the Sabine River Challenge; Matt Reed, Fred Roumbanis, and James Niggemeyer at the Falcon Slam; Marty Robinson, Brandon Palaniuk, and Britt Myers at the Bull Shoals Quest; Hank Cherry, J. Todd Tucker, and Casey Ashley at the West Point Lake Battle; Jonathan VanDam, Jamie Horton, and Mike McClelland at the Alabama Charge; Jami Fralick, Billy McCaghren, and Andy Montgomery at the Mississippi River Rumble; Timmy Horton, Paul Elias, and Shaw Grigsby at the St. Lawrence River Showdown; Kurt Dove, Jason Christie, and Brian Snowden at the Detroit River Championship.
DVD pre-orders are being taken now with Elite Member discounts available at the ProPatterns store. One particular discount is in honor of the Ice Bucket Challenge, ProPatterns is currently offering 20% off the regular purchase price of the Exposed Season 3 DVD collection with half of the sale proceeds donated to ALS support. When purchasing, customers should use code 'ALS2014' at check out if they would like to donate to this cause.
For other deals and more information about ProPatterns and Exposed, please visit http://www.ProPatterns.com.
More About ProPatterns, Inc. and Exposed:
ProPatterns, Inc. is a leader of angling education by sharing professional fishing tips, industry information and member services online. In addition, ProPatterns offers prize filled competitions, sharing of information among peers, and connections to industry professionals and media through means available nowhere else.
Information is gathered from various sources and disseminated with members in a variety of ways. The Exposed video series, for example, gains all of its integrity from an alignment with the biggest names in the bass fishing industry including professionals who fish with BASS, FLW, and PAA. Cooperation from the anglers and their willingness to share is the catalyst for the growth of this series.