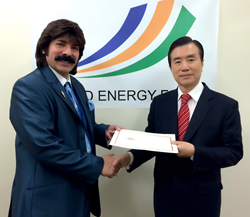 This year's World Energy Forum 2014 will be held October 20-23 at Montjuic Palace in Barcelona, Kingdom of Spain. It includes World Energy City Pavilions and Exhibitions, First Ladies Sustainability Summit, Film Festival and Annual Conference.
(PRWEB) September 19, 2014
World Energy Forum has appointed speaker, humanitarian, and international recording artist, Shawn Rae as its global Goodwill Ambassador. Mr. Rae's duties will include helping to promote the mission and vision goals of World Energy Forum, working with sponsors, and expanding partnerships with other energy related entities.
A unique and multifaceted personality, and a true nexus of the East and West, Shawn Rae is a natural-born global thinker who possesses a well-rounded and interestingly refreshing personal appeal. As an individual he has accomplished much, and is noted internationally for his varied contributions as a speaker, a designer, a recording artist, and a humanitarian. Rae has represented the United States at various national and international events, and has been featured in the media speaking on topics dealing with corporate giving, human rights abuses, matters relating to world trade, and technology-related issues affecting mankind.
He was selected as one of the Top 10 Speakers in the United States for the Conference on American Ingenuity by the U.S. Department of Commerce, and he was picked as one of four Judges by the U.S. Patent & Trademark Office and the Intellectual Property Association (IPO). The IPO includes such prestigious members as, General Motors, Lockheed, 3M, General Electric, Microsoft, Xerox, Aramco, Rolls-Royce, and other major corporate and multinational leaders.
World Energy Forum's mission is to partner with other energy organizations, governments, and the private sector, to help lead a global conversation on energy issues, and to educate and campaign for accessible and sustainable energy that can benefit all nations and peoples. To this end, World Energy Forum helps to facilitate political will as well as research, technological advancement, and capacity-building in order to achieve an energy-secure world.
World Energy Forum envisions itself as a global grassroots organization that aspires to help create a new paradigm for sustainable development throughout the world for the present as well as future generations.
This year's World Energy Forum 2014 will be held October 20-23 in the Kingdom of Spain. It will include such events as the World Energy Forum Summit, World Energy Forum First Ladies Summit for Sustainable Development, World Energy Forum Annual Conference, World Energy City Pavilions and Exhibitions, and the International Sustainability Film Festival. Also, the World Energy Consortium will be inaugurated to lead the Decade of Energy.
For more info on World Energy Forum, visit the following sites:
1. The global reasoning behind World Energy Forum (video length 3:04).
https://www.youtube.com/watch?v=WNYjKDbO14E&list=UU9Ulnay9wxKcdBQuGR5Wz9A
2. World Energy Forum 2012 in Dubai, United Arab Emirates (video length 3:10).
https://www.youtube.com/watch?v=7GRP8BY_JjM
3. World Energy Forum 2014 to be held October 20-23 at Montjuic Palace in
Barcelona, Kingdom of Spain: http://www.2014worldenergyforum.org/
4. World Energy Forum website: http://www.worldeforum.org/en/events.html
For more info on Shawn Rae, visit the following sites:
1. Shawn Rae Video Biography: http://www.shawnrae.com/page82.shtml
2. Shawn Rae Website: http://www.ShawnRae.com