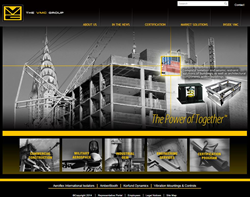 Our newly enhanced site is the perfect depiction of our progressive business approach.
Bloomingdale, NJ (PRWEB) September 17, 2014
The VMC Group is pleased to announce the launch of their newly designed corporate website, http://www.thevmcgroup.com. The launch of this site signifies the company's commitment to become a dynamic resource for engineering consultants, architects and distributors in the commercial construction, HVAC, industrial/vehicular, OEM, and military/aerospace industries.
"Our newly enhanced site is the perfect depiction of our progressive business approach," states John Wilson, Jr., CEO of The VMC Group. "The site was specifically designed to be an easy-to-navigate, informative tool and resource for anyone from engineers to field personnel. The site utilizes a responsive design to accommodate the rapidly increasing number of business-to-business transactions being completed on mobile devices. The site will allow our customers to instantaneously access product information and submittal drawings anywhere, anytime. We've strived to not only provide a wealth of information about our comprehensive vibration isolation, seismic control and shock protection product lines, but also our full scope of engineering services. "
In addition to product information, the new site serves as a resource for industry news, trends and articles regarding innovations happening both inside and outside of The VMC Group.
Once on the site, visitors will have streamlined access to: the company's versatile product line and capabilities; news, events and job openings; product and services; information on The VMC Group's International Building Code® (IBC®) Special Seismic Certification of Nonstructural Building Components testing services; technical data and submittal drawings, as well as case studies and job spotlights. The user can quickly and easily navigate the site thanks to convenient drop down menus organized by topic.
Product information is simple to find and neatly arranged under one of the company's four market sectors: Commercial Construction, Military/Aerospace, Industrial-OEM and Engineering Services. With a single click, users can read about a specific product, including its features and benefits and typical applications. They can then download and print additional information which may include tech notes, brochures, the SGMEC spec for the product and submittal drawings.
Along with product information, visitors will also find a collection of useful case studies and job spotlights highlighting The VMC Group's products and services at work in real life construction and development projects around the world. Case studies feature contributions from recognized industry veterans employed by The VMC Group, many of whom server on the company's board of directors.
For nearly ten decades, The VMC Group has been recognized as a world leader in the design and manufacture of vibration isolation and seismic energy management technologies. The VMC Group and their Engineering Services Division have been providing IBC® Special Seismic Certification to Fortune 500 companies and manufacturers of HVAC, power generation and fire protection systems for more than 10 years.
For more information on The VMC Group products or The VMC Group's Engineering Services Division please visit http://www.TheVMCGroup.com. For more information on The VMC Group's IBC Certification Services, please visit http://www.ibcapproval.com today or call 800-569-8423.