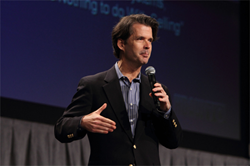 San Jose, CA (PRWEB) October 14, 2014
Many sales organizations have perfected the art of consistently hitting targets, but what too many of these organizations do not realize is that the target has moved. Thanks to the internet, buyers are empowered and have different expectations of what value a seller can bring to the table. In essence, the traditional value proposition has been rendered ineffective.
Fortunately for salespeople, Ric Farrell, president of Tangent Knowledge Systems, is returning to CONNECT! Online Radio for Professional Sellers this Saturday, October 18. Airing at 9 am Pacific time, Farrell will discuss with show host Deb Calvert how sellers can create brand equity, differentiate themselves, and truly understand if their buyer has a motivating reason to buy.
Calvert will conduct the interview with Farrell, incorporating questions submitted beforehand and live by listeners. The CONNECT! Online Radio Show for Selling Professionals is dedicated to helping sellers connect with buyers so they can cut out continuances, put an end to pending and stop stalling out.
To submit questions for Farrell and Calvert before the live broadcast, listeners can send an e-mail to deb.calvert(at)peoplefirstps(dot)com. To join the live broadcast and submit chat questions or call in directly, listeners are invited to go to the show's website.
An archived version of this program will be available after it airs at the iTunes Store CONNECT1 or at the website listed above.
CONNECT! Online Radio for Selling Professionals is sponsored by People First Productivity Solutions, a sales training firm dedicated to building organizational strength by putting people first. Deb Calvert, founder and president of PFPS, formed the CONNECT! Community to support sellers at all stages of their selling careers.