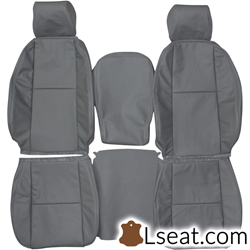 (PRWEB) September 17, 2014
A nice seat cover is necessary for those who want to completely change their vehicles' interior appearances. The quality covers offered by Lseat.com have every item clients need to completely overhaul the look of their vehicles, while keeping the cars protected from everyday wear and tear.
Today, the company has unveiled its new range of Chevrolet leather seat covers and launched an autumn special offer. All its brand new products are made of a comfortable mesh fabric that is both washable and breathable. That brings a lot of convenience for clients around the globe.
The reliable supplier is now supplying a huge collection of high quality items; its Chevrolet Tahoe leather seat covers are among the best-selling products in the global market.
"All our new leather seat covers are great. They can help the users retain a comfortable temperature on their derrieres during the blazing heat of the summer and the freezing cold of the winter. More importantly, all of them are made by trustworthy and experienced workers. The current special offer will be valid until September 23, 2014. It is a nice opportunity for those who want to order cost-effective seat covers through the internet," the company's chief executive officer says.
About Lseat.com
Lseat.com is a globally accomplished supplier of leather seat covers, and this company has developed into a modern enterprise that offers its customers around the world a one-stop seat cover solution. The business is committed to providing premium quality products at competitive rates. Now, it has been serving a large number of customers from over 70 countries.
For more information about their leather seat covers, please visit http://www.lseat.com/.