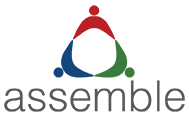 The event allowed us to generated ideas that will continue to shape the future of our solution, due to the creative, collaborative and competitive environment.
Houston, TX (PRWEB) September 17, 2014
Assemble Systems and STV Group teamed up for AEC Hackathon held in Seattle, WA this past weekend. This non-profit event brings together teams of top industry leaders, innovators, and technologist to shape the future of the built environment. This year, professionals from both Assemble Systems and STV Group joined to form Team Fusion.
The team set out to address the inefficiencies within construction delivery resulting from discrete islands of information that lack integration and access. BIM data is often difficult to use or access, particularly on the job site. In order to solve this issue, Team Fusion hacked Primavera P6 schedule data using Assemble's model viewer. This allowed the team to interact with the data and visualize schedule, critical path, look ahead, and 4D information. The ability to access the model viewer through any web browser gave the entire team easy access to the data.
In just one weekend, the team unbundled the viewer from Assemble and mashed up the schedule data with the model viewer. With specifications driven by the customer, the resulting app was a viable model for integrating Assemble's model viewer with virtually any dataset the customer requires. The team walked away from the event receiving the award for the Autodesk Challenge Best 3D App.
"The AEC Hackathon provided us with a weekend to partner with the STV Group, spec out and build an app for a key customer workflow challenge, and test its viability with technology and industry peers," said Nancy Clark Brown, National Account Manager for Assemble Systems. "In 36 hours, we created an app that wouldn't have otherwise been built. The event allowed us to generated ideas that will continue to shape the future of our solution, due to the creative, collaborative and competitive environment."
About Assemble Systems
Headquartered in Houston, TX, Assemble Systems is a BIM data management software company. Its flagship product Assemble is a cloud based platform allowing AEC firms to leverage BIM data for increased project insight, advanced project collaboration and data-driven decision making. Assemble is used today to manage over 1,400 projects. The Assemble Systems team includes technology experts and experienced architecture, engineering, and construction industry professionals who are addressing BIM interoperability for design, construction and operation. For more information, visit http://www.assemblesystems.com,twitter.com/assemblesystems or linkedin.com/company/assemble-systems