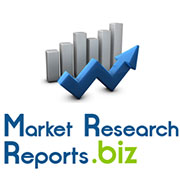 Latest Publication on Global Container Glass Market Report: 2014 Edition
Albany, NY (PRWEB) September 17, 2014
The global market for glass packaging is thriving on back of increasing consumer demand for pure, green, and sustainable food and beverage packaging. The fact that glass containers are chemically inert and pure, and thus safer to be used, their popularity and demand is notably high among consumers. Further, the perception of glass containers as having a high quality or premium image compared to plastic and metal containers is also facilitating its growth.
View Full Report at http://www.marketresearchreports.biz/analysis/223452
Its key property of being chemically inert and transparent makes glass the most suitable medium of packaging of liquor, pharmaceutical/life saving drugs and food items. Unlike plastic, cans, and multi layered cartons, glass containers do not need a petroleum-based plastic layer or other chemical additive to preserve the taste of foods and beverages, avoid corrosion or decrease gas permeability. Glass does not deteriorate, corrode, stain or fade, so products inside glass container remain as fresh and pure as they were bottled. Recyclable property is another major advantage of glass which makes it a preferred choice for packaging. In addition to the above benefits of glass, factors like increasing demand from emerging markets of India and China, rising cosmetic sales, changing lifestyle, increasing per capita income are also driving the growth of the glass container industry.
Download Detail Report With Complete TOC at http://www.marketresearchreports.biz/sample/sample/223452
The global container glass market is intensely competitive and highly fragmented, with several large and small players operating in the market. The companies compete mainly on the basis of quality, price, reliability, functionality, and other marketing attributes of the product. The leading players in the manufacturing of glass containers include Owens-Illinois, Inc.; Saint-Gobain S.A.; Vetropack Holding Ltd.; Vitro, S.A.B. de C.V.; and Ardagh Group, among others.
Browse All Koncept Analytics Market Research Reports at http://www.marketresearchreports.biz/publisher/24
The report titled "Global Container Glass Market: 2014 Edition" discusses the global glass container market and offers a geographic assessment. It analyzes the global industry as well as markets of the US, Europe and India. The major trends, growth drivers as well as issues being faced by the industry are being presented in this report. The report also presents the competitive structure of the industry and profiles major players in the glass packaging market including Owen-Illinois, Saint-Gobain, Vitro, S.A.B. de C.V, and Vetropack Holding Ltd., along with their financials and strategies for growth.
By combining SPSS Inc.'s data integration and analysis capabilities with our relevant findings, we have predicted the future growth of the industry. We employed various significant variables that have an impact on this industry and created regression models with SPSS Base to determine the future direction of the industry. Before deploying the regression model, the relationship between several independent or predictor variables and the dependent variable was analyzed using standard SPSS output, including charts, tables and tests.
Related Reports -
Global Flat Glass Market 2012-2016
View Full Report at http://www.marketresearchreports.biz/analysis/174128
Global Flat Glass market to grow at a CAGR of 9.34 percent over the period 2012-2016. One of the key factors contributing to this market growth is the growing demand from the Construction and Automotive industries. The Global Flat Glass market has also been witnessing the increasing use of solar control flat glasses. However, the increasing energy costs and the rising prices of raw materials could pose a challenge to the growth of this market.
View Full Report at http://www.marketresearchreports.biz/sample/sample/174128
The Global Flat Glass Market 2012-2016, has been prepared based on an in-depth market analysis with inputs from industry experts. The report covers the markets in the Americas and the APAC and EMEA regions; it also covers the Global Flat Glass market landscape and its growth prospects in the coming years. The report also includes a discussion of the key vendors operating in this market. The key vendors dominating this space include Asahi Glass Co. Ltd., Guardian Industries Corp., Nippon Sheet Glass Co. Ltd., and Saint-Gobain S.A.
About Us
Marketresearchreports.biz is the most comprehensive collection of market research reports. Marketresearchreports.biz services are especially designed to save time and money of our clients. We are a one stop solution for all your research needs, our main offerings are syndicated research reports, custom research, subscription access and consulting services. We serve all sizes and types of companies spanning across various industries.