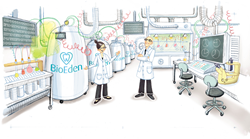 We aim to get children actively involved and interested in science and regenerative medicine, after all it is these children that will help shape the healthcare of the future'
(PRWEB UK) 18 September 2014
BioEden today launched a new UK section of their website especially for children: BioKidz
'As it is the children's stem cells that are preserved for a lifetime of use, it is important to engage the children and help them understand the importance of the work that we do', said Tony Veverka Group CEO.
'We also aim to get children actively involved and interested in science and medicine, and we hope that this tool, aimed at 4-9 year old's will do just that. After all it is the children of today who will help shape the healthcare of the future'.
BioEden have also launched a fictional book for BioKidz called 'Nothing but the Tooth'. The book forms part of a gift pack for the child when they become a member of BioEden. Although the book features an uber-cool fictional Super Tooth Fairy the book is based on fact, and takes the young reader deep inside the BioEden laboratories and helps them understand the work of a stem cell scientist.
The book can be viewed by visiting the BioKidz section of the companies website.
The company will soon extend the site to the US and the 21 countries globally in which they operate.