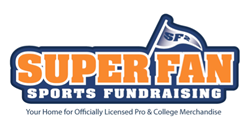 Sunrise, FL (PRWEB) September 17, 2014
Super Fan Sports Fundraising, LLC announced today the hiring of Joe Beauregard as Northeast Regional Fundraising Representative. Beauregard, a native of Chelmsford, MA, will handle fundraisers in the New England states, including Massachusetts, Vermont, New Hampshire, Maine, Connecticut and Rhode Island. He will work with schools, youth sports groups and charitable organizations that are in need of raising money for sports.
Beauregard previously worked as a Boston-area Fundraising Representative for Varsity Gold, a former national sports fundraising company. He is a graduate of Chelmsford High School and Fitchburg State University. Beauregard is involved in the local community with St Mary's Parish (Chelmsford), Chelmsford Youth Basketball League as an assistant coach, as well as Cub Scout Pack 81 Webelos Den Leader.
"Joe's past experience in fundraising sales gives him a great handle on how to organize and conduct successful campaigns for our fundraising groups that need to generate as much additional funds as possible, in these tough times," said Super Fan President & CEO Mark Geddis. "Here at Super Fan we couldn't be more excited about having Joe as a new member of our team."
In accepting the position, Beauregard said, "I'm looking forward to partnering with Super Fan. In my experience, to have the ability to offer quality, licensed professional and college merchandise that teams and organizations can use to raise money, is big winner. These are items people are already out buying for themselves and their families. Now, with Super Fan, they can raise money for their favorite organization, while purchasing these items. I'm looking forward to working with organizations to achieve their fundraising goals."
About Super Fan Sports Fundraising:
Super Fan Sports Fundraising, LLC was founded on the principle of offering sports organizations, schools and nonprofit groups unique fundraising programs, involving sports interaction & sports experts, and featuring a wide variety of premium licensed products, including professional (NFL, MLB, NBA, NHL) & collegiate (NCAA). The high quality and authentic logoed sports merchandise provides organizations the ability to earn a competitive profit. The Company's objective is to come up with more fundraising ideas and be the leader in the $4 billion product fundraising industry, providing millions of dollars to assist local schools, sports organizations and nonprofit groups, utilizing a national sales force in every major sports market in the country.
For More Information:
Super Fan Sports Fundraising, LLC
Concord Plaza
510 Shotgun Road - Suite 160
Sunrise, FL 33326
info(at)superfanfundraising(dot)com
http://www.superfansportsfundraising.com
Toll-Free (855) 602-7990
Media Contact:
Tom Jennings
(855) 602-7990
tjennings(at)superfanfundraising(dot)com