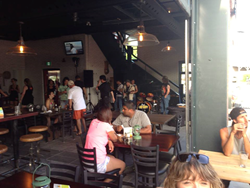 Kenora, ON (PRWEB) September 17, 2014
Canada's leading restaurant furniture manufacturer and distributor, Restaurant Furniture Canada recently helped Lake of the Woods Brewing Company in Ontario with its grand opening by supplying it with new American made table tops.
Lake of the Woods Brewing Company recently opened its brewery and bar in Kenora in northwest Ontario. The brewery was built in a historic building that was previously a firehall built in 1912. The microbrewery is capable of producing up to 400,000 liters of ale and lager annually, beginning with once per week brews. The copper jacketed brewing urns and equipment will be installed in the former west side ambulance bay separated from the old fire truck bays by an interior porcelain wall.
To provide windows for patrons to view the brewery in operation as well as widening a kitchen doorway requires partial removal of the west and north porcelain brick walls, specified features under the heritage building designation. The owner tried to preserve and enhance all heritage aspects of the building, reduce its footprint on the environment and encourage tourism.
In addition to operating a micro-brewery/pub, there is restaurant that accommodates seating for 270 diners on the main floor and upper level, an outdoor patio facing Second Street is open during the summer months and a roof top greenhouse produces vegetables for the restaurant. The Park Street building houses the Lake of the Woods Brewing Company's own 'Beer Store' for off-sale consumption limited to products brewed, bottled and packaged on site.
"The owner of Lake of the Woods Brewery contacted Restaurant Furniture Canada for new solid wood table tops and because of their reputation for high quality at competitive prices", salesperson Chris explained. "He decided to go with Restaurant Furniture Canada's Premium Solid Wood Plank Table Top in dark mahogany finish in eased edge. He bought X-prong table bases which are sold separately. Prices for table bases start at $36.
Prices for Restaurant Furniture Canada's Restaurant Furniture Canada's Premium Solid Wood Plank Table Top start at $101. Customers can choose from 6 different finishes or have a custom finish made for an additional charge. Like many of Restaurant Furniture Canada's wood furniture, the Restaurant Furniture Canada's Premium Solid Wood Plank Table Top are made in the USA from wood responsibly harvested in the Midwest.
To browse Restaurant Furniture Canada's full selection of chairs, bar stools, table tops, table bases, booths and patio furniture visit http://www.restaurant-furniture.ca/ or talk to a customer service representative at (888) 998-4222 for answers to all your questions on restaurant furniture.
Lake of the Woods Brewery is located at 350 2nd St. South in Kenora, ON. They can be contacted at (807) 468-2337.