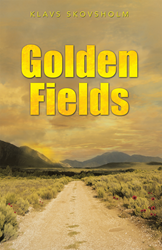 These challenging times brought about long-term changes that have been largely forgotten.
BRUSSELS (PRWEB) September 19, 2014
According to South Africa's tourism bureau, more than one million travelers visit this amazing country every year, but what does the average tourist really know about the background of their destination?
Author Klavs Skovsholm has travelled extensively through Africa. He wants to help people explore an often-overlooked period of time with a modern set of characters in his new novel, "Golden Fields."
"Historical events in South Africa between the Boer War and WWI are largely forgotten in history books," Skovsholm said. "These challenging times brought about long-term changes and represent population struggles similar to those surrounding the 1994 elections."
Skovsholm knows that the history of events is only one factor in any story, so he made sure to include cultural aspects that have carried over to today. "Golden Fields" presents the story of two older women in love and how they must survive a bloody civil war, whose effects would travel all the way into Europe while creating the borders and governmental structures that exist in South Africa today.
"While LGBT culture is openly discussed today, it is rare to hear about gay people in history," Skovsholm said. "That certainly doesn't mean that somehow they didn't exist, so I wanted to show history through the lens of characters that faced extra challenges."
The best way to relate the past to the present is to apply it to the stories of individuals. As Skovsholm's characters do their best to be true to themselves and each other, they reveal a dark part of history that many have never seen.
"Golden Fields"
By: Klavs Skovsholm
SC-ISBN: 978-1-4525-1859-6
SC-Retail price: $11.99
Available at barnesandnoble.com and amazon.com.
About the author
Klavs Skovsholm has travelled throughout Africa on both professional and personal trips. These trips have helped satisfy both his love of outdoor activity as well as his interest in colonial history. He currently works for the Council of the European Union. Skovsholm is a specialist in the European Union's bilateral fisheries agreements with African countries.
Editors: For review copies or interview requests, contact:
Spencer Hotz | 317.602.7137| shotz(at)bohlsengroup(dot)com
(When requesting a review copy, please provide street address.)