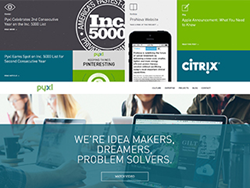 Winning five WebAwards for our five submissions is just a nod to our talented team.
KNOXVILLE, Tenn. (PRWEB) September 17, 2014
Pyxl, a leading digital marketing firm named to the 2014 Inc. 5000 list, announced today that it has won five WebAwards for websites across five different industries. The WebAwards are produced by the Web Marketing Association which is composed of Internet marketing, online advertising, PR, design and development professionals who help set the industry standard. After 17 years, the WebAward program is the longest running annual website award competition dedicated to naming the best websites in 96 industries while setting the standard of excellence for all website development.
"Winning five WebAwards for our five submissions is just a nod to our talented team," said Josh Phillips, president of Pyxl. "Every member of this team excels in their specified area of expertise, from digital marketing to web development and design, and the group collectively keeps up with the cutting-edge, industry trends. It is this dedication and passion that will continue to push us toward success."
The WebAwards focus on the entirety of a website, with particular emphasis on the creativity and functionality of the overall interactive experience. Judges score the websites on a scale from 1-10 based on these seven criteria: design, innovation, content, technology, interactivity, copywriting and ease of use. Four sites Pyxl created won "Standard of Excellence" awards, which are given to websites who are setting the standard for the industry. Additionally, one site Pyxl created won the "Outstanding Website" award that recognizes work above and beyond the standard of excellence.
The Pyxl website wins include:

Pyxl website - Professional Services Standard of Excellence award
Carpathia website – Outstanding Website award
My College Path website (Maryville College microsite) – Education Standard of Excellence award
Rainbow Child Care Center website – School Standard of Excellence award
TEAM website – Faith-based Standard of Excellence award
Following a 299 percent growth rate throughout the past three years, Pyxl landed on the Inc. 5000 list of America's fastest growing private companies in both 2013 and 2014. With a strong client focus and an integrated, results-driven strategy, Pyxl serves national clients in the healthcare, technology, retail and education industries, including Pilot Flying J, Carpathia, Maryville College, UC Berkeley Haas School of Business, ABT Molecular Imaging and many others.
For more information about Pyxl's proven digital and inbound marketing expertise with a wide range of clients in a variety of industries, visit http://www.thinkpyxl.com/projects.
About Pyxl, Inc.
Founded in 2000, Pyxl designs and develops custom websites, web applications and mobile apps that balance technology and design with an effective user experience. With offices in Boulder, Colo., Knoxville, Tenn., and Scottsdale, Ariz. Pyxl utilizes its digital marketing experience to help clients meet their digital goals, whether that means developing and implementing a customized inbound marketing strategy, driving traffic through an integrated digital marketing and public relations campaign, encouraging online engagement via social media or increasing sales through e-commerce functionality. Pyxl builds online tools for nationwide brands seeking enterprise level support. For more information, visit http://www.thinkpyxl.com.