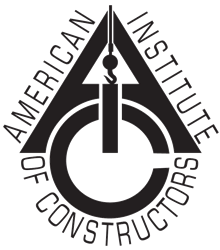 Obtaining this accreditation has been a long time goal of AICs. I could not be more proud of this accomplishment. Said Paul Mattingly, CPC, AIC's National President
Alexandria, VA (PRWEB) September 18, 2014
ANSI, a private, nonprofit organization, accredits other organizations to serve as a third-party product, system and personnel certifier has accredited AIC's Associate Constructor and Certified Professional Constructor Certification Programs.
For nearly 20 years the AC and CPC designations have recognized individuals for the skill, knowledge, and professionalism needed to be manage the construction process. Those who obtain these designations have demonstrated their skill and proficiency through education, experience and a rigorous examination.
ANSI is the only personnel certification accreditation body in the United States to meet nationally accepted practices for accreditation bodies. ANSI accreditation is recognized both nationally and internationally and has become the hallmark of a quality certification program.
"Having a quality and validated certification process is important to us and the construction industry, who will benefit most by having an ANSI Accredited Certification to turn to for individuals to manage the complex process of construction." Said AIC National President Paul Mattingly, CPC.
About AIC
Founded in 1971, the American Institute of Constructors is a nonprofit professional society serving construction professionals across the United States. Its mission is to promote individual professionalism and excellence throughout the related fields of construction. Through the Constructor Certification Commission, AIC certifies individuals through the Constructor Certification Commission. The Associate Constructor (AC) and Certified Professional Constructor (CPC) are internationally recognized certifications in the construction industry. Combined, these programs have tested over 23,000 professionals. These two certifications give formal recognition of the education and experience that defines a Professional Constructor. For more information about the AIC, visit http://www.professionalconstructor.org.