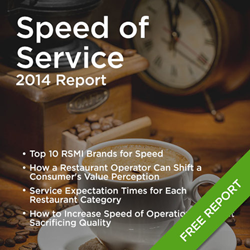 We've unlocked the secrets behind what the top rated fast casual brands are doing to make a difference in the eyes of customers.
Addison, TX (PRWEB) September 18, 2014
Long Range Systems (LRS), a leading supplier of messaging and tracking solutions announces the public availability of its recent in-depth "Speed of Service Report", published in partnership with Foodable WebTV.
Long Range Systems has served the restaurant and hospitality industry for over two decades, and has developed unique solutions that help businesses cut service time, boost efficiency and excel in providing better customer experience. LRS works with two of the top ten brands for speed of service and provides solutions that include tracking for faster table turns, waitlist management, and feedback gathering with tablet surveys.
The Speed of Service report provides insight on DigitalCoco's top ten out of 250 restaurant social media index (RSMI) brands for speed and discloses what tools and methods they are using to increase speed and provide high-quality service.
Some of the key findings include:
•The top 10 brands with a reputation for speed
•Service expectation times for each restaurant type
•How to reduce service times without compromising
food quality
Speed is the new benchmark for customer service and public perception of restaurant brands, and is "one of the leading factors of a successful guest experience." Readers can learn how top restaurant brands are implementing excellent speed and service, the importance of speed in the current marketplace, and how modern technology and data collection can help improve customer experience.
"We've unlocked the secrets behind what the top rated fast casual brands are doing to make a difference in the eyes of customers," said Michelle Strong, CMO LRS. "It's not just what new technologies they're deploying in the back and front of the house, but it's how they're doing it that impresses consumers."
To download a copy of the 2014 Speed of Service Report click here.
About Long Range Systems, LLC
Long Range Systems, LLC is a leading global provider of on-site paging, guest management and surveying tools. LRS solutions are used in a variety of settings, including: restaurants, hotels, hospitals, day cares, amusement parks, churches, retirement and nursing homes, doctor/dentist offices and more. LRS owns 20 patents and markets over 30 products designed to streamline operations, improve customer satisfaction levels and increase sales. For more information, visit http://www.LRSus.com
About Foodable WebTV
Foodable WebTV Network, founded by Digital CoCo and led by restaurant industry publisher & producer Paul Barron, officially launched in 2013, but has been ramping up its media development for the past three years. Foodable is a new media company that provides rich, broadcast-quality production and strong editorial content for trade professionals and food enthusiasts.