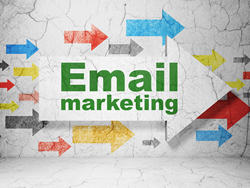 Email marketing benefits small businesses in a variety of money-making ways.
(PRWEB) September 18, 2014
GetUWired, a full-service internet marketing firm located in scenic Dahlonega, Ga., has just released a blog that explains how email marketing benefits small businesses. The blog is titled "9 email marketing benefits your small business can't ignore" and it can be seen here.
Email marketing benefits have caught the eye of a multitudes of businesses recently, especially small businesses. For small businesses looking to increase their sales and grow their business, email marketing is one great marketing tool they simply can't ignore.
Email Marketing Benefits
Benefit #1: Email marketing is highly targeted
Unlike print ads or billboards, email marketing can be sniper-focused to individual customers' tastes.
If a business sells cars, for example, the business can send out email marketing campaigns designed just for people who have recently purchased, people who have come to look but haven't bought anything yet, and people who bought a few years ago and might be in the market to buy a new vehicle.
Benefit #2: Email marketing helps businesses learn about customer behavior
Infusionsoft allows businesses to track the emails they send to see which ones have been opened and which links have been clicked. That means businesses get invaluable information about what interests their customers.
With a little digging and some strategic thought, businesses can use Infusionsoft's tracking features to figure out what products, subjects and content types (coupons, articles, offers) are most tempting to their customers. Harnessing this information in future marketing efforts can produce even greater results.
Benefit #3: Email marketing benefits brand recognition
People are more likely to buy brands they've heard of. When a company puts their brand in front of their customers over and over again with email marketing, they're more likely to remember that company's name. And simply because they remember it, they'll assume that brand carries a certain amount of authority (because why would they remember a brand that's awful?)
Benefit #4: Email marketing increases qualified leads
According to an article in Entrepreneur magazine ("Domo Arigato, Mr. Roboto," Sept. 2013), businesses that use marketing automation to nurture their prospects see a 451% increase in their number of qualified leads.
Benefit #5: Email marketing produces tangible ROI
Because every click can be tracked, businesses that use email marketing can tangibly see how well it is working. Infusionsoft allows businesses to see how many email subscribers purchased a product or signed up for an event from a link in marketing emails. This way, a business can know exactly how well its investment in email marketing is benefiting business.
Benefit #6: Email marketing turns one-time customers into long-term relationships
Once a customer makes a purchase, don't let them go astray! Continue to nurture them with email marketing to bring them back for related products, upgrades, or new items.
Benefit #6: Email marketing can establish a business as an authority
If a business wants customers to think of it as the #1 source for information about its industry, email marketing is a great way to do it. Send customers helpful articles on products, or tips and tricks to get the most mileage out of their most recent purchase.
Always remember to triple-check any information before it goes out to customers. It's too easy to lose someone's trust by sending them inaccurate information.
Benefit #7: Email marketing offers unlimited potential
GetUWired has clients who send out recipes, newsletters, tips and tricks, offers, etc. If a business wants to send out a joke of the day, they can!
One of the greatest benefits of email marketing is that it can be used to test new ideas, ask for feedback, get referrals, and lots of other tasks that would be too expensive to experiment with elsewhere.
Benefit #8: Email marketing can respond instantly to changing circumstances
Email is nearly instantaneous. Email marketing allows businesses to respond to changing circumstances in the industry or the world in an instant. Keeping contacts updated via email will increase their trust and show them that the business keeps on top of the latest trends.
Benefit #9: Email marketing increases sales
Email marketing is one of the easiest ways to increase sales because email can include special offers, coupons and links to purchase products. These are even better than traditional "clippable" coupons because customers can access them from their smartphones, no paper necessary.
Ready to experience the benefits of email marketing for yourself?
Call GetUWired today at 877-236-9094 or visit http://www.GetUWired.us.