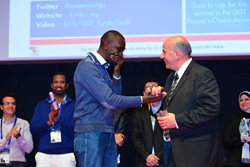 "We believe this new format is a convenient, powerful way to share our 2013 impacts," said CRDF Global President and CEO, Cathy Campbell. "With the continued support of our funders, donors and clients, these successes – and many others – are possible."
Arlington, VA (PRWEB) September 18, 2014
CRDF Global released today its 2013 Annual Report. The organization's first ever digital edition – rich with videos, images and interactive graphics – tells the story of how CRDF Global empowers scientists and innovators around the world. Working with a diverse network of government, corporate, foundation and individual supporters, CRDF Global reaches across borders to engage scientists and innovators in research, training and entrepreneurship.
The Annual Report highlights three key projects in 2013:
1. Through CRDF Globlal's implementation of the U.S. Department of State funded Global Innovation through Science and Technology (GIST) initiative, see the story of one participant, a rising Kenyan tech entrepreneur who launched a mobile textbook access application that helps students gain affordable access to learning materials.
2. By partnering with the National Science Foundation, CRDF Global created a free database called Newton's List, where researchers can locate vital funding opportunities in international science collaboration.
3. Funded by the U.S. Department of State's BioIndustry Initiative Program, CRDF Global concluded a large scale transformation of an old biologics plant in Siberia into a modern, commercial production facility that employs hundreds of scientists and contributes to the country's agriculture and food industries.
In addition to details on success stories, milestones, financials, the Annual Awards Gala, and donors, this digital edition includes a compelling infographic with highlights from 2013 such as:

477 awards made to grantees from 86 countries
22 funders initiated new projects
over $22 million in award payments
"We believe this new format is a convenient, powerful way to share our 2013 impacts," said CRDF Global President and CEO, Cathy Campbell. "With the continued support of our funders, donors and clients, these successes – and many others – are possible," said Campbell.
About CRDF Global
CRDF Global is an independent, nonprofit organization established in 1995 to promote international scientific and technical collaboration through grants, technical resources, training, and services. CRDF Global has nearly 20 years of experience managing international research funding programs and supporting emerging science and technology infrastructure in more than 40 countries in Eurasia, the Middle East, North Africa and South Asia.