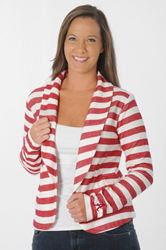 U.G. Apparel brings trendy, fashion forward apparel with a comfortable and functional fit.
Chicago, IL (PRWEB) September 26, 2014
Today's intercollegiate sports are such a big influence not only on students, but on alumni and surrounding communities as well. It used to be difficult to find the right fit to show off your pride and school colors, but UG Apparel has solved that problem. UG Apparel threw out the idea of unisex t-shirts and junior's apparel in the bookstores, and has created a unique sizing chart that will fit alumnae with very flattering styles. 
UG Apparel has worked for years to refine their sizing chart to bring collegiate styles to real women, and have come up with missy and plus sizes that are sure to flatter real body types. UG Apparel understands that they are not outfitting just college freshman, and have created the most stylish and comfortable pieces to outfit female fans of all shapes and sizes. UG knows their customers' passion is to represent and support their teams. And it's their passion to give them the stylish, comfortable, clothing to do so!