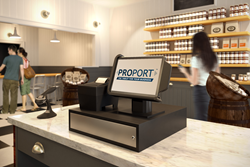 Traverse City, Michigan (PRWEB) September 19, 2014
AD Technologies is pleased to announce the certification of PROVISIO's SiteKiosk Android application and SiteRemote management platform for use on the PROPORT™ tablet.
The PROPORT is a powerful Android-based commercial tablet from AD Technologies which can be deployed as a kiosk, point-ofsale terminal, digital signage display, business process solution, and more. SiteKiosk is a software application that locks down a publicly used device and protects the operating system against any kind of unwanted user manipulation. It can also be configured to allow access only to desired websites, programs and folders.
"AD Technologies is proud to be able to support PROVISIO's SiteKiosk Android application with our PROPORT device. Our robust tablet features a rich Android platform, and PROVISIO's SiteKiosk software will provide businesses with the tools necessary to create compelling, engaging, and secure installations for their purposed device applications," says Dan McKean, Vice President of Sales at AD Technologies.
Heinz Horstmann, CEO of PROVISIO, concurs, "Our software, SiteKiosk, turns the PROPORT tablet into a secured, powerful, interactive, self-service device or Digital Signage display running multi-media campaigns when the device is connected to our remote management platform http://www.siteremote.net."
Horstmann also adds that the PROPORT tablet is a top-notch performer: "On the PROPORT tablet our SiteKiosk Android software runs well, even when it locks down multiple apps. There are no issues impacting performance, and there are still plenty of system resources left when running SiteKiosk Android. From all Android devices we have tested so far, including the Google
Nexus and the Samsung Galaxy Tab 3, the PROPORT tablet is one of the best performing tablets with our software."
ADT offers configurable, purposed devices, optimized for business and commercial applications. The PROPORT™ commercial tablet is their flagship product and is designed for integration with numerous peripherals and mounting solutions for fullfeatured installations. PROPORT provides a clean Android interface without "bloatware," generous IO connections, built-in cable security, VESA mounting, and more. The device is also modular and can be customized or branded for OEM or key account customers.
###
About AD Technologies
APPLIED DEVICE TECHNOLOGIES was established in 2013. As a product development, sales and distribution company, our team draws on well decades of experience designing, marketing and producing commercial grade electronic devices and solutions. ADT's goal is to provide customers with innovative products that drive business goals, facilitate customer demand and offer best of breed technology solutions to deliver value and easy to deploy end-to-end solutions.
http://www.applieddevicetechnologies.com
About PROVISIO
PROVISIO is a market-leading software development company providing turnkey secure kiosk and digital signage/remote management software solutions named SiteKiosk and SiteRemote. The software is sold in more than 50 countries through offices in the U.S. and Europe. Fortune 500 companies, including Verizon Wireless, OfficeMax, Hilton Hotels, BMW, T-Mobile, SEARS/Kmart, and Citibank, have chosen PROVISIO's easy-to-use and scalable software solutions for deployments of 1,000+ machines. PROVISIO has the largest install base of kiosk software products worldwide.
http://www.provisio.com
Copyright © 2014 Applied Device Technologies. All rights reserved.