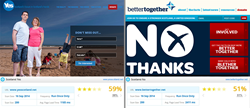 "Given the national importance of these campaigns, it's a surprise to see these websites not being at the top of their games in SEO." Jeremy Spiller, Managing Director of SiteChecker
(PRWEB UK) 18 September 2014
On 16th September, browser-based website-checking SEO tool SiteChecker scanned the websites of the campaign for Scottish independence, yesscotland.net, and the campaign against it, bettertogether.net, to discover which had been built with the best SEO practices in place.
The 'Yes' campaign came out on top in the battle of the websites with a score of 59%, with the 'No' campaign trailing behind with a much lower 51%.
Although it's reasonably close, both of these websites could have done far more to improve their SEO and reach a wider audience trying find out more about the Scottish independence referendum if they had used SiteChecker.
'Urgent Issues' Facing Scotland
SiteChecker revealed that the 'No' campaign website featured a total of 9,685 urgent issues, including missing page titles, meta descriptions, text link titles and image titles. It also found issues with duplicate titles, incorrect use of H1 tags and slow-to-load pages.
The website of the 'Yes' campaign came off slightly better in SiteChecker's scathing report, but not without its own share of SEO problems: a total of 11,245 urgent issues including missing titles and meta descriptions. The bulk of these were made up by 9,713 text links with missing titles, a slightly less egregious issue. The higher website score of 59% ultimately came down to a smaller variety of issues discovered on the 'Yes' campaign site.
Jeremy Spiller, Managing Director of SiteChecker said, "Given the national importance of these campaigns, it's a surprise to see these websites not being at the top of their games in SEO. Of course, unlike businesses who crave attention on the web, political campaigns of this magnitude will naturally gain a great deal of traffic from reputable news sources, but the fact remains that these issues still affect the ways users experience the site."
A Design for Fife
The two websites not only share similar SiteChecker scores, but also design elements.
Both websites harnessed the power of the infographic, provided events listings and included a countdown timer to highlight the urgency of coming to a decision and voting. The main aim of each website was clearly not just to convince visitors of their positions, but also to capture data, with the 'Yes' campaign featuring a particularly large information sign-up form.
However, whereas the 'No' campaign website relied on large hero banners, giant call-to-actions and regularly updated blog posts, the 'Yes' chose a more minimal design that put the faces of Scotland front and centre.
It will be very interesting to see, once the old score is finally settled on Thursday 18th September, whether the campaign with the best website score goes ahead to claim victory in the political realm.
Until then, it's fair to say…
"The best made sites o' mice and men
Gang aft a-gley."
Editors' Notes:
SiteChecker has scanned millions of web pages across thousands of different websites since it was launched in 2007. The constantly updated error database finds issues with sites that limit their audiences on search engines. To give your website a health check and learn where you could be missing opportunities online, use the free trial of SiteChecker at http://www.sitecheckerapp.com.
For more on this story, please contact Jeremy Spiller on 08455 440223 or email contact(at)sitecheckerapp(dot)com