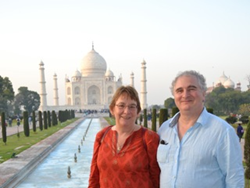 Any intelligent fool can make things bigger and more complex.It takes a lot of genius and lots of courage to move in an opposite direction.Albert Einstein – Scientist (14 March 1879 – 18 April 1955)
Norwich, Norfolk (PRWEB UK) 19 September 2014
Using simple good science the shower power booster is an extraordinarily efficient solution to increasing the pressure to dribbly taps and showers. At its heart, is a small pump using less than 1/20th the electricity needed by traditional pumps to create glorious refreshing showers. The success of the invention is now attested by thousands of users. It has a UK patent granted and is 'patent pending' in many parts of the world. In the past year it has been hugely successful in boosting combi-boilers and electric showers, as well as gravity showers.
Alan Wright and his co-owner Susan Wright visited India in March 2014 on a multi-centre trip arranged by the European Business and Technology Centre and funded by the European Union through Climate-KIC. Further trips are planned to India and also Southern European countries this year, and to USA, Australia, South Africa, Nigeria, and other potential markets next year.
Plans for the next year are even more exciting. Alan has already sold pumps into 5 continents worldwide and he looks forward to increasing sales worldwide next year, but he insists that must not be to the detriment of supporting sales in the UK and Ireland.
A new licence agreement will mean that in 2015 the pumps will be available in many plumbing merchants and major stores, sold under licence through Flowflex, whilst web-based sales direct to customers in the UK and worldwide will continue from Alan's own web sites. Alan will be supporting Flowflex and will be introducing the product range to the plumbing trades on 15th October at PHEX – the plumbing and heating exhibition in Manchester.
The automatic flow switch, which the pump lacked when he featured on Dragons Den, was developed in Norfolk with the help of Philip Matthews of Anglian Electronics, based in Dereham, Norfolk. Assembly has now been moved lock, stock and barrel into the huge Flowflex factory in Derbyshire, under a manufacturing licence signed in March 2014. "We now sell more pumps in a day than we previously did in a week, and these are dispatched direct from the factory" said Alan.
http://www.showerpowerbooster.com/?shop=shopitems/shower.power.boosters.for.gravity.systems.buy.now/sp2.fully.automatic.for.gravity.systems.sp2gravity.aspx&prev=?shop=shopitems/shower.power.boosters.for.gravity.systems.buy.now/index.aspx
To adapt the product for the poor quality of water in many developing countries, it will be necessary to develop a modified flow switch. The flow switch will be made in the UK and is included as part of a £20,000 product development program part funded with a 25% grant brokered by NWES (Norfolk & Waveney Enterprise Services) under its 'Ready Set Go Innovation Grant' on September 11th 2014. This is on top of the funding received in July under 'The Growth Accelerator' brokered through Pera Consulting (UK) Ltd for website development, and UKTI grants awarded to help with export market research.
Details of the development program are available on the web site http://www.showerpowerbooster.co.uk/product-development/
Alan explained, "One fly in the ointment is the new government lending restrictions, which have resulted in the rug being pulled on a finance package which has supported the cost of development over many years. We can either seek alternative finance to maintain momentum and finance patents in countries outside the UK until such time as they themselves generate self-financing income, or slow things down such that we rely solely on growth funded by income."
To learn more about the showerpowerbooster visit http://www.showerpowerbooster.co.uk or contact
Alan Wright BSc(Hons) CEng. MICE
36 Howard Close
Norwich
NR70LE
01603702775