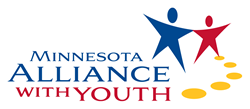 I like that there are a variety of ways to serve as a Promise Fellow, allowing individuals to find a place where they can serve most effectively and have the opportunity to grow.
Saint Paul, Minn. (PRWEB) September 18, 2014
Minnesota Alliance With Youth is pleased to announce the start of service for 210 AmeriCorps Promise Fellows in schools and community organizations across the state.
AmeriCorps Promise Fellows address both the achievement gap and the civic engagement gap experienced by many of Minnesota's low-income students and youth of color. Working directly in schools or with youth in afterschool or community programs, Promise Fellows provide academic support, connect youth with opportunities to become involved in service, and mobilize caring adults to connect with youth.
AmeriCorps Promise Fellows serve a total of 1720 hours during their term of service, working with youth in grades 6-10 within communities that have the highest annual high school dropout rates and at middle schools that feed into those high schools.
This year, the Alliance's statewide network of host schools, community organizations and Promise Fellows is poised to create historic impact, helping over 6,000 youth in Minnesota overcome obstacles in order to reach their fullest potential and achieve success in school, work and life.
The 2014-15 corps of Promise Fellows is composed of individuals from across the state and country, with backgrounds ranging from current college students to seasoned professionals.
Erin Ginaty-Moore, 2014-15 Promise Fellow serving with Minnesota Alliance With Youth, said of her commitment to serve Minnesota's youth, "I have been passionate about education and government since high school. In college, I discovered I also had a passion for youth leadership. I chose to serve as a Promise Fellow because it is a unique opportunity that combines my passions. I like that there are a variety of ways to serve as a Promise Fellow, allowing individuals to find a place where they can serve most effectively and have the opportunity to grow."
Minnesota Alliance With Youth (http://www.mnyouth.net) is a collaborative network advocating with and for youth to ensure that all young people in Minnesota have access to the fundamental resources they need to be successful – the Five Promises: caring adults, safe places, healthy start, effective education and opportunities to serve. Since the Alliance was founded in 1997, it has hosted more than 1000 AmeriCorps Promise Fellows to serve in schools and community organizations across Minnesota