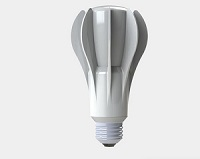 (PRWEB) September 17, 2014
GE Lighting's 100-watt A-line replacement LED bulb has earned recognition from two influential lighting industry organizations. The American Lighting Association (ALA) has chosen the bulb as a winner of its Lighting for Tomorrow competition, and the Illuminating Engineering Society (IES) has chosen to include the consumer lighting solution in its annual Progress Report. The bulb is the first 100-watt A-line replacement ENERGY STAR(R) LED to achieve 100 lumens per watt.
"The ALA and IES continuously support advances in the lighting field, and GE is honored to have been recognized by both prominent organizations," said Linda Pastor, LED Product Manager from GE Lighting. "Our 100-watt replacement LED is an example of GE's purposeful innovation that makes energy-efficient lighting—and its benefits—attainable for more and more consumers."
The GE 100-watt replacement LED bulb was named a Lighting for Tomorrow winner at the ALA Conference on Sept. 16. This competition honors products that help increase the market availability of well designed, energy-efficient residential lighting products with excellent quality of light. The 2014 competitors included lighting control devices, solid-state lighting (SSL) fixtures, replacement lamps and retrofit kits.
The GE 100-watt replacement LED bulb was one of ten new GE Lighting products to be selected by the IES Progress Committee and named to the IES Progress Report, a program acknowledging developments in the art and science of lighting throughout the world.
GE's 100-watt replacement ENERGY STAR-qualified LED was the first to achieve 100 lumens per watt, making it the most efficient bulb of this kind. At 1600 lumens and 16 watts, this bulb primarily helps consumers looking for brighter LED bulbs for reading lamps or task lighting, but also, it is used in various commercial applications, such as in hotel rooms. For consumers looking for higher wattage LED bulbs, they now have a realistic energy-efficient lighting solution, providing optimal energy savings for their monthly energy bill. Over the life of this bulb, estimated at more than 22 years at three hours of use per day, consumers can expect to save more than $230 based on an electric rate of $0.11/kWh.
To learn more about GE's 100-watt LED replacement and other innovative consumer LED products, visit GE Lighting's website.
GE Lighting
GE Lighting invents with the vigor of its founder Thomas Edison to develop energy-efficient solutions that change the way people light their world in commercial, industrial, municipal and residential settings. The business employs about 13,000 people in more than 100 countries, and sells products under the reveal(R) and energy smart(R) consumer brands, and Evolve(TM), GTx(TM), Immersion(TM), Infusion(TM), Lumination(TM), Albeo(TM) and Tetra(R) commercial brands, all trademarks of GE. General Electric works on things that matter to build a world that works better. For more information, visit http://www.gelighting.com.