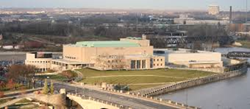 Columbus, Ohio (PRWEB) September 19, 2014
The end of September marks the end of an era and the last event at Franklin County Veteran's Memorial located at 300 W. Broad St., Columbus, Ohio.
Gryphon Auction Group will conduct an online only auction of the remaining assets at the event center with bidding ending on Monday, September 29, 2014 at 7pm.
Remaining items include office furnishings, office equipment, catering and restaurant equipment, audio visual equipment, banquet tables and chairs, safes, electronics, and other miscellaneous items used in the facility over the past 50 years. All assets are offered absolute and regardless of price.
Bidders can register to bid at obtain more information at http://www.gryphonusa.com under Our Auctions.
About Us
Gryphon Auction Group is the equipment and business asset auction arm of Gryphon USA, Ltd., a multi-faceted asset management and liquidation firm focusing on the operations and dissolution of single assets through and including entire companies. Gryphon affiliates are Parker Kruse Asset Management Gryphon conducting business consulting and receivership services and Sperry Van Ness Gryphon Parker, providing a full suite of commercial real estate services.