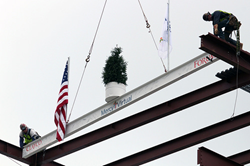 Time of day, distance and geography will no longer be obstacles in connecting patients and expert care teams.
St. Louis, Missouri (PRWEB) September 17, 2014
Mercy "topped out" the world's first virtual care/telemedicine center this week, hoisting the building's final beam into place. Sister of Mercy Claudia Ward also blessed the beam before it made its ascent. (Photos and video of the event, including footage from an unmanned camera mounted to the beam, available here: http://bit.ly/MercyVirtual.)
"The topping out means we are even closer to bringing high quality medical care to thousands of patients regardless of the hour or location," said Dr. Randy Moore, president of Mercy Virtual. "Time of day, distance and geography will no longer be obstacles in connecting patients and expert care teams. People who are far from advanced health care facilities often wait until an issue becomes critical before they seek care. With Mercy Virtual Care, they won't have to wait."
The 120,000-square-foot facility, which broke ground in May, is expected to open mid 2015. It will serve as Mercy's hub for telehealth professionals to reach more patients regardless of age, illness or location.
Mercy Virtual will accommodate nearly 300 physicians, nurses, specialists, researchers and support staff. Care will be delivered 24/7 via audio, video and data connections to locations across Mercy and around the world through partnerships with other health care providers and large employers. Mercy estimates the center will manage more than 3 million telehealth visits in the first five years. The center also will be a hub for advancing telemedicine through research and training.
The building, located at 15740 South Outer Forty Road in Chesterfield, Missouri, sits at the southeast corner of Interstate 64 and Clarkson Road. Along with the final beam, an evergreen tree and an American flag, were hoisted to the top of the new building, following a tradition that has its beginnings in Scandinavia. The "topping out" with a tree symbolizes bringing life to a structure as it reaches its maximum height. Some 40 Clayco construction workers and subcontractors, along with Mercy telemedicine leaders, joined in the celebration.
Photos and video, including images from an unmanned camera mounted to the beam for the ascent, and aerial photos of the site's progress are all available, as well as time-lapse photography of the building from groundbreaking to today: http://bit.ly/MercyVirtual. For background about Mercy Virtual, including an artist's rendering, facts, video and photos, visit: http://bit.ly/MercyVCC
Mercy is the fifth largest Catholic health care system in the U.S. and serves millions annually. Mercy includes 33 acute care hospitals, four heart hospitals, two children's hospitals, three rehab hospitals and one orthopedic hospital, nearly 700 clinic and outpatient facilities, 40,000 co-workers and more than 2,000 Mercy Clinic physicians in Arkansas, Kansas, Missouri and Oklahoma. Mercy also has outreach ministries in Louisiana, Mississippi and Texas.
###