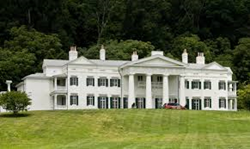 The celebration, to which the public is invited, will overlook the $10,000 Future Hunter Stake, the Middleburg Hunter Classic, and the Adult Amateur Hunter classes.
Leesburg, VA (PRWEB) September 17, 2014
Equestrians from across the East Coast will gather at Morven Park on Friday, Sept. 19, to celebrate the recent official ground-breaking that began the complete renovation and expansion of a facility with a 50-year history of hosting international competitions.
The celebration, which takes place 4-6:30 p.m. during the Middleburg Classic hunter competition, will overlook the $10,000 Future Hunter Stake, the Middleburg Hunter Classic, and the Adult Amateur Hunter classes. The festivities provide an opportunity for the equestrian community to celebrate the official ground-breaking for new outdoor arenas that took place on September 7, attended by the trustees of the Westmoreland Davis Memorial Foundation, which oversees the 1,000-acre historic site and equestrian center.
According to the Washington Business Journal, visit Loudoun, Loudoun County's tourism arm, met with DC2024 (its name has since been changed to Washington 2024) representatives on April 30 to discuss the jurisdiction's role. Two potential venues, and one vague "opportunity," were discussed. Specifically, Washington 2024 has identified the 1,000-acre Morven Park International Equestrian Center as a setting for equestrian games, (Washington Business Journal, Swim, Ride and Row: Loudoun, Washington 2024 eye three county venues for possible Olympic sites, September 15, 2014)
"With a goal of creating one of the premier equestrian venues on the East Coast, Morven Park's plans begin with the replacement of its outdoor arenas with later phases of construction to include a pavilion for prime spectator viewing and hospitality, a Grand Prix field, all new barns and a new indoor stadium to create a comprehensive multi-discipline venue. The Grand Prix field will host show jumping, hunter derby and carriage driving competitions," says Sheryl Williams, Chief Operating Officer of Morven Park.
The original facilities date back to the late 1960s, when a school was established at Morven Park to educate riding instructors. Today Morven Park hosts about 30 events each year, including Morven Park's Spring and Fall Horse Trials, dressage shows, driving competitions, Pony Club rallies and camps, hunter shows, and educational clinics.
Expansion of the current facilities will not only provide more rider and spectator conveniences but will provide opportunities for expanding the competition calendar. Horse show organizers are encouraged to contact info(at)morvenpark(dot)org for booking information.
About Morven Park
Morven Park is operated by the Westmoreland Davis Memorial Foundation. The non-profit organization was established to preserve and promote the historic site in memory of its final owner, Westmoreland Davis, who served as Virginia governor from 1918 to 1922.
Morven Park advisory committee members are available for interviews. We encourage you to contact Robin Nolan at McDavid Public Relations for quotes and additional information at 919-745-9333.
Media is invited to attend our celebration on September 19th.