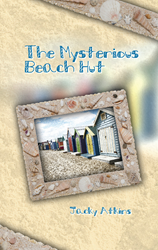 A detective tale involving a misplaced letter, war, death and old age, all sensitively handled.
(PRWEB) September 23, 2014
On a summer's afternoon in 2001, 12 year old Holly and her 9-year-old sister, Beth, are in their beach hut in Brighton warming up after a swim in the sea when there is a knock on the door. Marjorie, the little girl they meet, is dressed in an old-fashioned swimming costume and seems a little strange. But soon a friendship develops between them that mysteriously transports the sisters back to the summer of 1914 and the eve of the outbreak of war. As they step out of the beach hut with Marjorie, it strikes Holly that the light is different. Just for a moment, it feels as if they are looking at a heat mirage when the bottom of the picture you see becomes slightly wavy and hazy. It is almost as if, for a split second, time has stood still.
"The Mysterious Beach Hut" tells the story of Holly and Beth's adventures into a time long gone - while in their own world of 2001, only two other people can see Marjorie. The girls are determined to try to discover who she is and why she set this extraordinary chain of events into motion. There are so many unanswered questions and Holly seeks the help of Mr. Edwards, the curator of the Brighton Museum, who has a tale of his own to tell. He explains how, through his own experience, he saw history for what it is, not something old and past but rather part of the present and the future.
This charming novel is really a detective tale involving a misplaced letter, war, death and old age, all sensitively handled. The overall message is of hope. And it's of special relevance in this, the centenary year of the start of The Great War.
About the Author
Jacky Atkins lives with her husband in Cobham, Surrey, England, about 20 miles west of London. They have four children and seven grandchildren. Jacky has had several short stories and poems published, but this is her first novel.
Book Details
Genre: Juvenile Fiction / Mystery
Author: Jacky Atkins
Format: Hardcover and Paperback, 180 pages
Pub date: January 2009
"THE MYSTERIOUS BEACH HUT" (HC ISBN: 978-1-60693-434-0, $24.50) (SC ISBN: 978-1-60911-071-0, $12.50) is now available and can be ordered through the publisher's website:
http://www.eloquentbooks.com/TheMysteriousBeachHut.html, Amazon, or the website of Barnes and Noble.
WHOLESALERS: This book is distributed by Ingram Books and other wholesale distributors. Contact your representative with the ISBN for purchase. Wholesale purchase for retailers, universities, libraries, and other organizations is also available through the publisher; please email bookorder(at)sbpra(dot)net.
Strategic Book Publishing and Rights Co, LLC