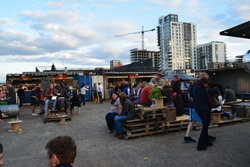 First pop-up event of it's kind on the River Thames using recycled shipping containers.
London (PRWEB UK) 18 September 2014
Adaptainer has produced and released a video of mystery pop up theatre show and drinks venue built from converted shipping containers - the first of its kind to open on London's River Thames.
The show called 'The Boy Who Climbed out of His Face' uses 13 recycled shipping containers which were specially converted by Adaptainer.
What happens inside the containers during the show is a well guarded secret but involves visitors taking off their shoes and going barefoot through a multi-sensory theatre experience for 30 minutes before being 'spat out at the other end'.
In the video produced by Adaptainer you get a rare insight into the story behind this unique waterfront event.
"The show has a very unusual water feature on the upper deck level of the shipping container structure which ticket holders will see during the performance, it was great fun to help put it all together," said Paul Clark of Adaptainer.
As well as the performance there's a free entry live music venue serving cocktails and food - all from pop up shipping containers.
It all takes place on 'The Jetty' which is located in North Greenwich, close to London's O2 arena. You can get there by tube, boat or even cable car.
This conversion work is the latest in a dynamic portfolio of container modification projects that Adaptainer has been involved in.
Adaptainer hopes it will inspire more people to think about the ways in which they can use second hand shipping containers for other purposes after their life at sea has ended.
'The Boy Who Climbed Out of His Face' is open until September 28th. Read more info here.
About Adaptainer:
For more than 25 years Adaptainer have been converting shipping containers for a wide range of uses including pop-up shops, generator housing, offices, storage and many other purposes.
As well as container conversion services Adaptainer supply standard shipping containers for sale and hire across the UK
The company is privately held and maintains container stock in London, Felixstowe, Grays, Gravesend, Barking, Birmingham, Cannock, Liverpool, Coatbridge, Southampton, Leeds, Manchester and Belfast - as well as having 2 main UK offices:
Adaptainer
Reliant House, 3 Angel Lane
Fore Street
Ipswich, Suffolk
IP4 1JX
United Kingdom
Tel: 01473 281818
Adaptainer
Long Meadow, Flaunden Lane
Bovingdon
Hertfordshire
HP3 0PA
United Kingdom
Tel: 01442 834566